Hang in there, Doujin! Take Part in the First Ever Air Comiket
Doujin culture will not be defeated by the likes of coronavirus. 
The cancelled Comic Market 98 (also known as C98), which was originally scheduled for May 2-5, is a go! It's cancelled, but it's still happening! 
"What? Is it cancelled, or isn't it cancelled?" you say. "Are they really going to do it with all that's going on?!"
Don't worry. Doujin culture doesn't always exist in the physical world. Thankfully, we have the Internet!
C98 is happening in digital form, and is newly dubbed "Air Comiket".

On March 27, the Comiket Market Preparatory Committee held the opening ceremony for the Air Comiket Preparations Room, and they uploaded a recording of it on the video site Nico Nico Videos on April 12. Air Comiket is just one aspect of the "Ganbarou! Doujin" project which was founded when C98 was cancelled. 
The "Ganbarou! Doujin" product was created to help doujin present their works so that we can keep the fire of doujin culture alive, even if large scale sale events are cancelled in order to prevent the spread of coronavirus. Our slogan calls people to unite in helping each other overcome these difficult times. Besides the many not-for-profit doujin clubs, lots of businesses are also participating, with many promotional campaigns in the works.

https://www.comiket.co.jp/info-a/C98/GanbarouDoujin.html
In the Nico Nico video, Comiket Preparatory Committee joint representative Kouichi Ichikawa told of all the particulars of C98's cancellation and the conception of Air Comiket, so if you're interested give it a look!
When will it be held?
The 1st was originally planned to be the day to prepare for the convention, so it will be the same for Air Comiket. You might think they don't have anything to set up, but they probably still have lots to do!
As of the writing of this article (on April 25) they hadn't yet made clear all of the details of the digital event, but currently it seems they'll have the cooperation of Doujin portal site Circle.ms and online doujin shops Tora no Ana and Melon Books to support the distribution of doujin goods. For example, if you spend 3,000 yen or more on Tora no Ana or Melon Books, then you'll get a free paper bag, which they'd intended to sell at C98. You'll also get the entry wristband that was supposed to be distributed at C98 when you purchase some doujin works from these sites.  
They're also considering linking other shops that sell doujin goods on Air Comiket's web catalogue page on Circle.ms. That way participants can buy other kinds of productions as well. 
There will be a huge variety of businesses participating in Air Comiket and supporting doujin. Check out the links below to find out the details for each one. Don't worry if you can't read Japanese! We've got you covered. Doujin World is here to share our passion with the whole world!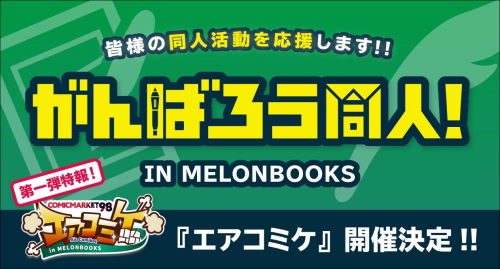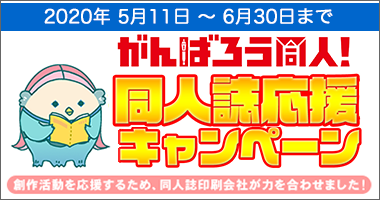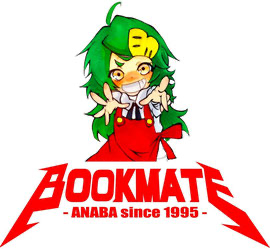 Joint Representative Ichikawa said, "Though the event was cancelled in real life, I want to offer something to the doujin. Even if it's digital, it's important that Comiket happens from beginning to end." The unbreakable spirit of doujin is certainly something to be admired.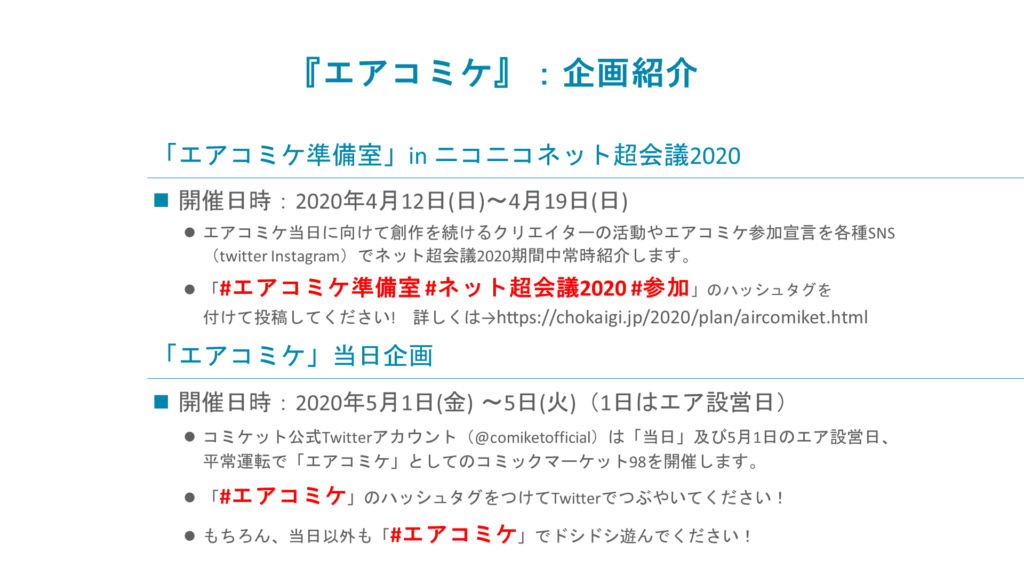 The hashtag "#エアコミケ" (#AirComiket) is trending on Twitter and Instagram, so people seem to be looking forward to the event. We don't know what's going to really happen during the first ever Air Comiket, but we can't take our eyes off of it, so we'll be following the developments closely!
Follow @doujinworld