Pentagon the Illustrator: Drawing until Imagination Takes Form
Getting Good at It Because You Love It
In Japan, the gods are everywhere, in everything, and have been revered in Japanese culture for centuries. Though it sounds like we're making light of the gods, our doujin world, in fact, has its own gods, like the Kami-7, the seven most popular members of all the 48-groups. Today, we're happy to share an interview with what many fans refer to as one of the gods of illustration: the immensely talented Pentagon. 
Twitter : @RailgunKy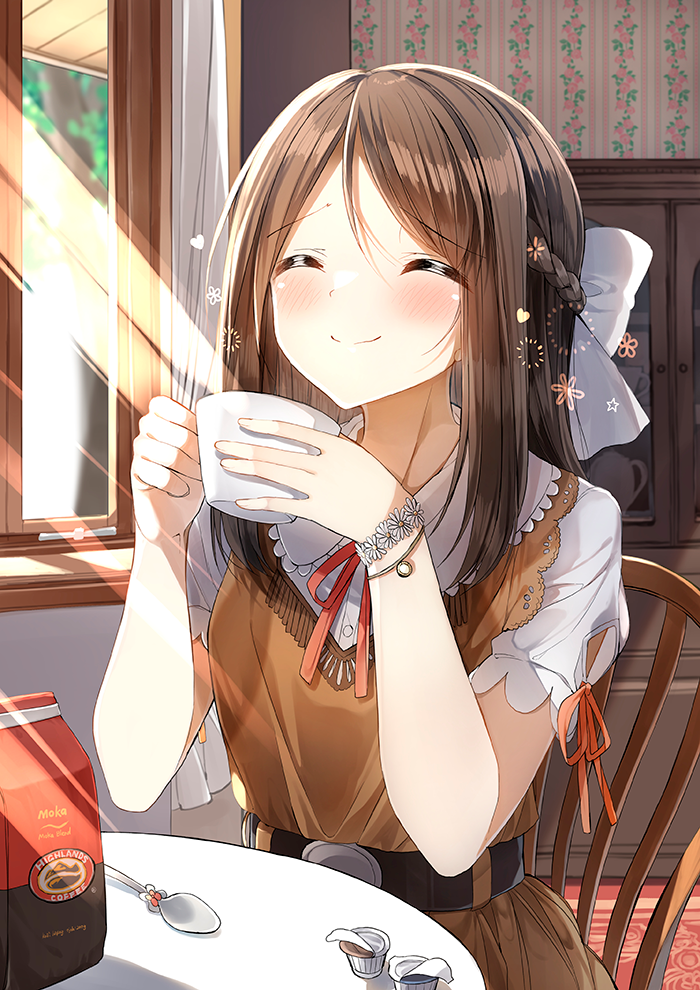 An illustration of a girl enjoying a cup of coffee, drawn by Pentagon specifically for the occasion of our interview
At the beginning of our interview, after introductions were made, Pentagon said, "I'm a little bit nervous because this is my first interview". That was surprising for us because they have over 240,000 followers and are a reasonably well-known illustrator!
We proceeded with the interview by first remarking on the fact that one of the unique aspects of Pentagon's art is the way they use lines. They replied, 
"Thank you for noticing. I do actually use lines very conscientiously. I feel like it's a technique I just recently managed to achieve after practicing for so long. I've been trying to make the drawings look good and make the colors pop. After all, the picture takes center stage in an illustration. For example, in shonen manga stories they draw to reflect the strength of the story or the impact of the character, but I'd rather express fragility and beauty in my art."
You can tell that from the drawing of the pretty girl drinking coffee that Pentagon made for the occasion of this interview. It's not just a portrait of a character, but a portrayal of a moment in time. It's truly impressive that they were able to make the viewer feel as if they are witnessing that scene in person. 
"Not at all! But I think I needed a lot of practice to get to where I am now. In my case, I started out by being single-mindedly obsessed with copying drawings I liked. By the time I realized what I was doing I'd done over 1,000 drawings."
That's amazing. It seems like everyone at the forefront of something was originally some unknown person putting in a lot more effort and hard work than an ordinary person. 
"I actually sometimes receive e-mails from people asking me to look at their drawings. But I find that giving advice is really hard. Like I said, I started by copying others, so for those who want to start practicing drawing, that might be a good place to start. The most important thing is that you have a desire to draw. Nowadays there are lots of choices of how to draw, like digital pen tablets, but I think it might be good to start with an old-fashioned mechanical pencil and paper first."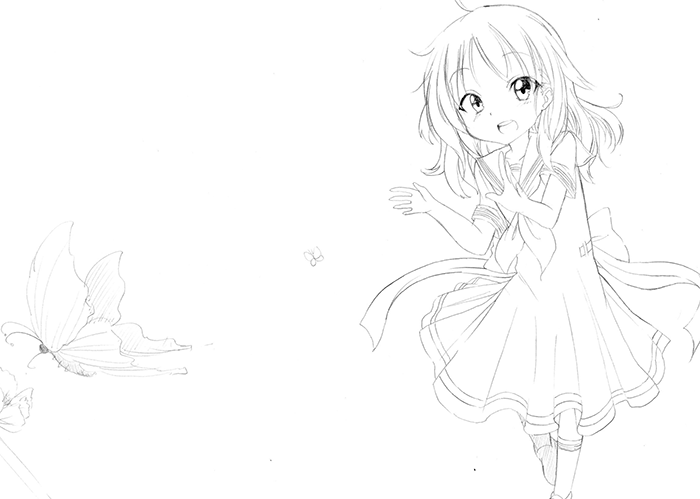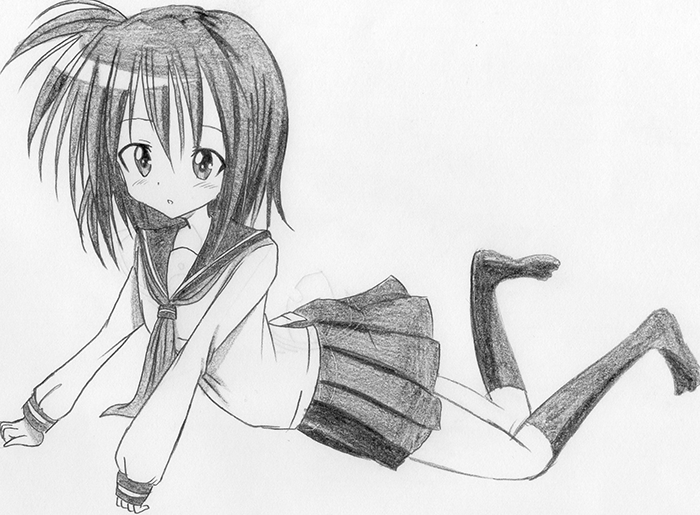 Drawings Pentagon showed us from their past
A Fateful Encounter with a Digital Diva in Junior High School
Much of Pentagon's work is of high school girls. As adults, we see their drawings and are instantly refreshed by the youthfulness and sweetness portrayed within them. How did Pentagon come to draw pretty girls like this?
※Check out Pentagon's artbook here!
https://www.amazon.co.jp/s?i=stripbooks&rh=p_27%3Aぺんたごん&s=relevancerank&text=ぺんたごん&ref=dp_byline_sr_book_1
"I've loved drawing since I was little and have always been doing it, but the first time I thought about drawing pretty girls was when I was in my second year of junior high school. That was when I encountered Hatsune Miku. At the time I didn't have any connection to fan art, but with one look at her I was hooked (laughs). After that I drew Hatsune Miku over and over and over again. Also, the reason why I love drawing high school girls is because of the manga K-On! I especially loved the dummer Ricchan. I'm happy if people get the same sense of youthfulness from my illustrations as they do from K-On!"
Imagination is the Most Important Resource
As we get older, scenes from our school days start to fade in our mind. But Pentagon's drawings inject color back into our sepia-tinted memories. How does just one drawing have so much power to do so? We asked what kinds of resources they use as inspiration for their drawings. 
"Oh, it's nothing fancy like that. For example the drawing of the girl drinking coffee…it all came from my head (laughs). She's actually drinking Vietnamese coffee, not regular coffee. It's really bitter, so you drink it with condensed milk. It's her first time trying it, so I wanted to try to portray her feelings as she drank it. She was worried what it would taste like, nervous that it would be too bitter, but after she drank it she realized it was really delicious. I imagined what her face would look like, and what the room she's drinking it in would look like, and turned it into a picture."
We just love how her eyebrows are a little worried but her mouth is very happy!!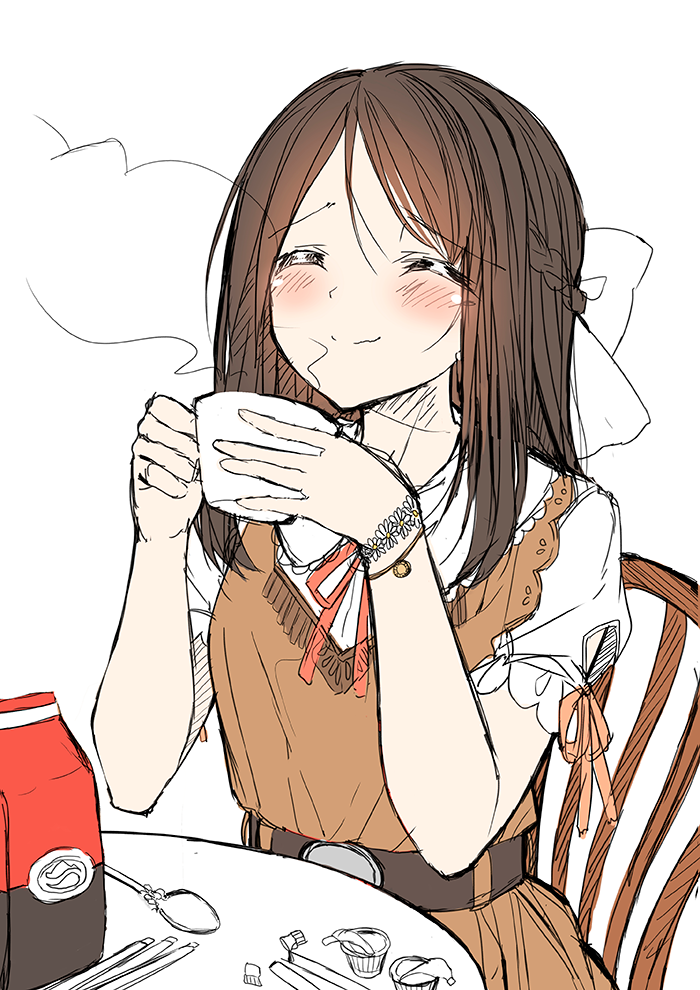 Pentagon's initial sketch of the girl drinking coffee. The feelings are depicted exactly as they were imagined. 
Kawaii is the word becomming in a common in the world now
The Japanese word "kawaii" has crossed borders and become an internationally recognized word. Pentagon is undoubtedly someone who produces "kawaii" pictures, and in regards to the word's international exposure, Pentagon had this to say: 
"Since a lot of my pieces are about school life, I sometimes wonder if they're too different culturally for international fans. But 'kawaii' is a feeling that everyone in the world can understand, so I would be happy if I can use 'kawaii' to build a bridge between cultures. I want to use 'kawaii' to share Japanese things with the world, and by the same token to share things of the world with Japan."
Pentagon's kawaii drawings seem to be doing just that. We can't wait to see how their pieces will interact with the world!
Follow @doujinworld