The World's First!? 『SAKUGAN』×『DOUJIN WORLD』 has held the Worldwide "Fan Art Campaign"!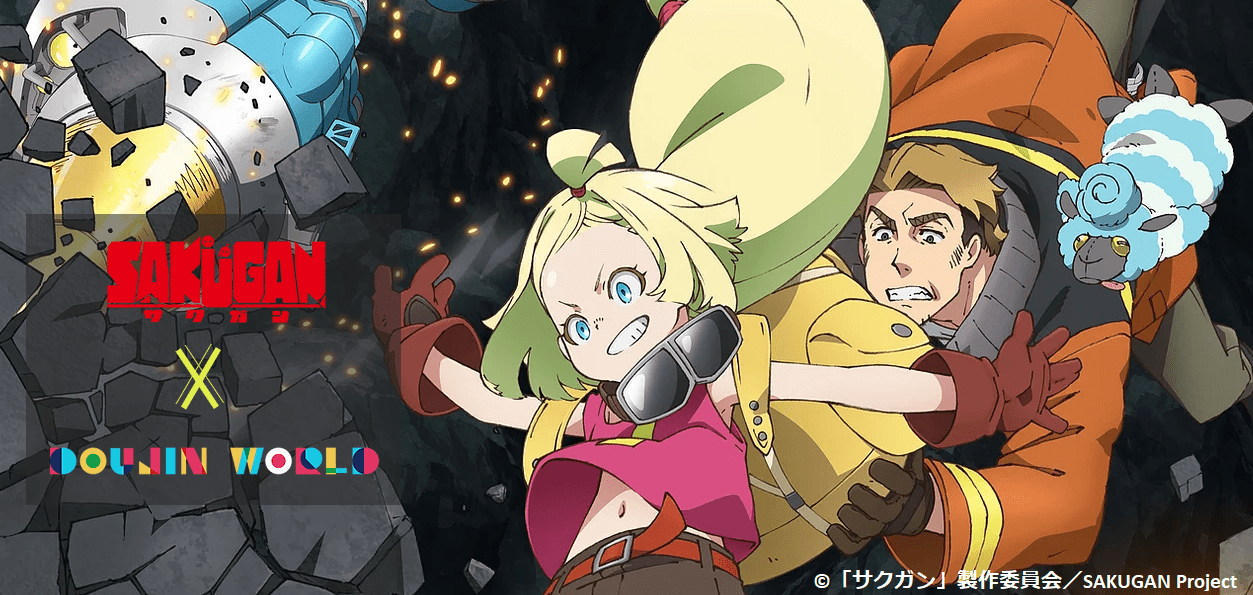 Started Anime "SAKUGAN" Fan Art Campaign!
"SAKUGAN" is currently being distributed simultaneously around the world through various platforms such as Crunchyroll and bilibili! This campaign is also being held in collaboration with "Doujin World", a website that provides doujin information globally, and will be held simultaneously around the world.
https://www.sakugan.doujin-world.com/en

About the Anime "SAKUGAN"
One day in the distant future. Humans live shoulder to shoulder in "colonies" separated by rock.
Outside the colonies, a dangerous undeveloped area called "the Labyrinth" is expanding. Those who risk their lives to develop "the Labyrinth", who mark out the undeveloped areas, are known as "Markers".
A young girl, Memempu, who wants to be a Marker one day, and a man, Gagumber, who used to be one.
This mismatched father and daughter now take on the Labyrinth!
"If there's no path, dig one!"
Adventure Mecha Action presented by SATELIGHT to start airing in autumn 2021!
https://sakugan-anime.com/
*There is also English information on the official site.

In the "SAKUGAN" Fan Art Campaign, we are looking for "fan art" of all kinds, from "SAKUGAN" illustrations, cosplay photos, plastic models, figures, dioramas, origami, cooking photos, and so on! Please use the hashtag "#SAKUGANART" and post your work on Twitter or Facebook. Of course, we have details and application rules, so please check the special site.
https://www.sakugan.doujin-world.com/en
When we approve your entry, we will pick your work up on "'Sakugan' Fan Art Campaign Official tumblr."
https://sakuganart.tumblr.com/
The submission period is "Tuesday, November 16, 2021, 7:30 p.m. – Friday, December 31, 2021, 11:59 p.m." Japan Time.
Results will be announced on "SAKUGAN" Radio Labyrinth" in late January 2022, and on the "SAKUGAN" official website and SNS.

▼Prizes▼
〇Prize for Excellence (3 winners)
Original "SAKUGAN" Shield
We will engrave your pen name on it.
〇"SAKUGAN" Radio Award (1 winner for each Award)
Autographed SAKUGAN BD-BOX Part 1 and Part 2 roll set
-Kanon Amane Award (Memempu's voice actor)
-Hiroki Touchi Award (Gagumber's voice actor)
-Toshiyuki Toyonaga Award (Yuri's voice actor)
*BD-BOX will be played in "Region 1".
*Prizes will be shipped after the end of February 2022.

If you haven't seen TV anime "SAKUGAN" yet, don't worry. You can watch it in various ways.
【Japan】
-TOKYO MX/BS11/AT-X From October 7th every Thursday from 23:30
-MBS From October 9th every Thursday from 27:08
-dAnimestore/BANDAI Channel/Hulu From October 7th every Thursday from 23:30
-Delivered sequentially after 23:30 on Sunday, October 10th
ABEMA /Amazon Prime Video / Animehodai / ANIMEKA / au Smartpass Premium / DMM.com / dTV / flat douga / FOD / Google Play / GYAO! / GYAO!Store /HAPPY!douga / HikariTV / JANBARI.TV / J:COM OnDemand Megapack/Manga UP! / MBS Dougaism / milplus Mihoudaipack premium / movieplus / music.j / niconico / Paravi / RakutenTVTELASA Mihoudaiplan / TSUTAYA TV /TVer / U-NEXT / Video Market
【Other Country】
-Crunchyroll:All regions except Asia
-bilibili:Asia region

Let's be moderate, cross borders, and make the anime "SAKUGAN" fun and exciting for everyone!
We're looking forward to your submissions.
Official Site:https://sakugan-anime.com/
Official Twitter:https://twitter.com/ANIMA_info
Official YouTube:https://www.youtube.com/channel/UCedwDnjKc-CFgMeC6f8n70g
Follow @doujinworld