[TRPG Cafe "Monodraco" Owner: Chihiro Misuzu] Let's enter the world of TRPG where anyone can have fun!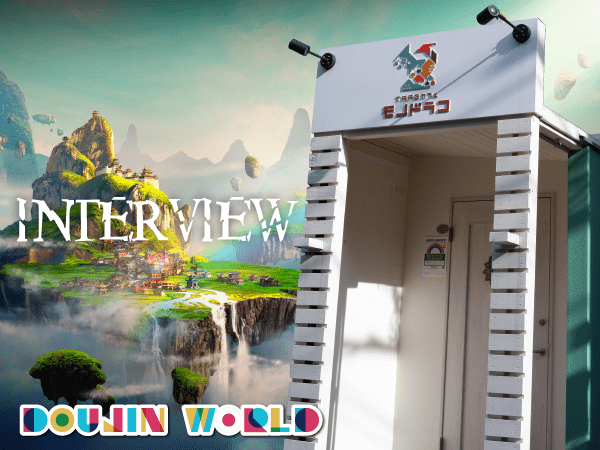 What kind of game is TRPG exactly??
TRPG… Even though I'm sure there are people who have heard of it, there are also many people who don't know exactly what it is. First of all, TRPG stands for "Table Talk Role-Playing Game". It's an RPG that you play through discussion at a table, it's almost like a read through. To play you don't need tech like PlayStation, Xbox, or PC. As long as you have the rulebook, anyone can go on an adventure!!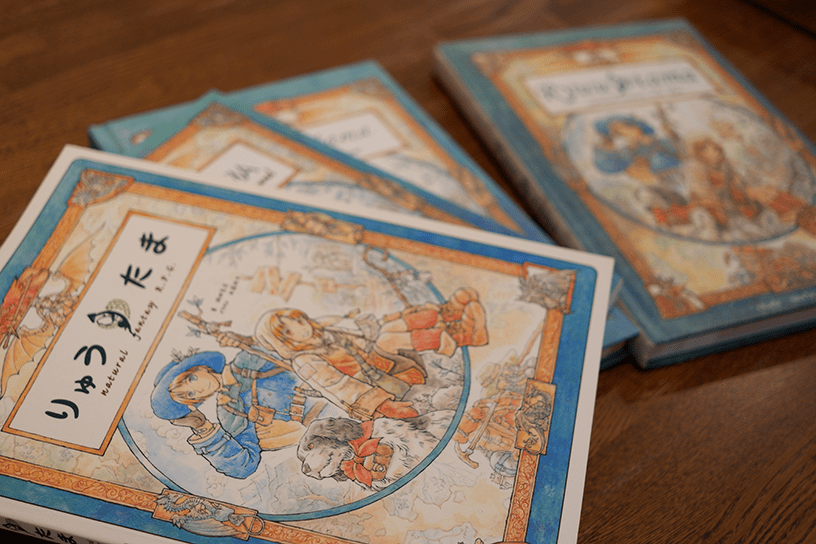 TRPG was created by the shop manager of Monodraco. The game has won awards abroad and has been translated into many languages.
Either way, we are also TRPG amateurs, or rather we're not very experienced. Because of this, we asked Chihiro Shinsuzu, the TRPG cafe owner, to talk to us about the game's depth and appeal!!
TRPG is the reason that famous RPGs  were born
"I've heard famous RPGs in Japan originated from the concept of what a TRPG would look like as a computer game. Actually, it's such a genre with such a long history that there are TRPGs more than 30 years old."
Really!? That's so surprising. And take a look at how thick the rule book is. The learning curve must be huge if you have to remember all of these rules in order to play the game, right?
Numerous TRPG rule books are held at Mondraco's shop
"No, not at all (laughs)! The TRPG called D & D (Dungeons & Dragons) is known to be the oldest role-playing game in the world. If you were to collect all of the rules and scenarios together, it would be about 2 bookshelves worth of rule books but children abroad play it and sometimes on a daily basis. The environments in the game are close to those found in movies so it's very easy to get into."
Hmmm, if children have fun with it, we as wise adults can definitely play it with ease!!
"Yes, that's the intrigue of TRPGs. You can have fun creating and envisioning a world based on your experiences filled with the stories you imagine and the characters you've dreamed up."
What??? You mean that there aren't just set characters and scenarios…?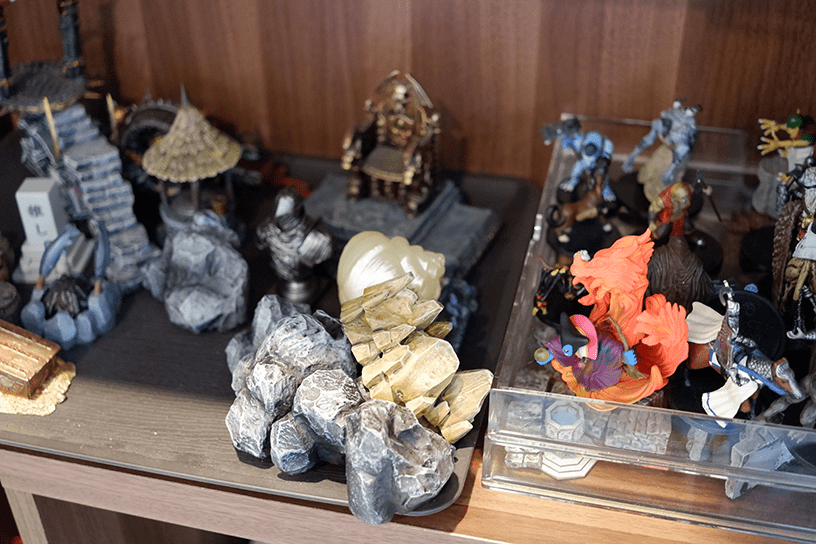 The many small pieces used in TRPGs
With as many stories as there are players, there's so much freedom!! 
"For sure! There are ways to have fun while playing fixed characters and scenarios that appear in the rule book. However, the amount of freedom during gameplay tends to be in the hands of the Game Master… The GM is the person who oversees the rules and scenarios of the game. Even when people play the same TRPG, it's up to the GM to spin the stories in the game in order to allow players to become their ideal characters and live freely in the world that is created."
Wow!! That sounds awesome!! So that means that the software replaces the relationship between the GM and the player when it comes to video games. Because of this it makes it much easier for people to start playing these games as a player as opposed to the GM."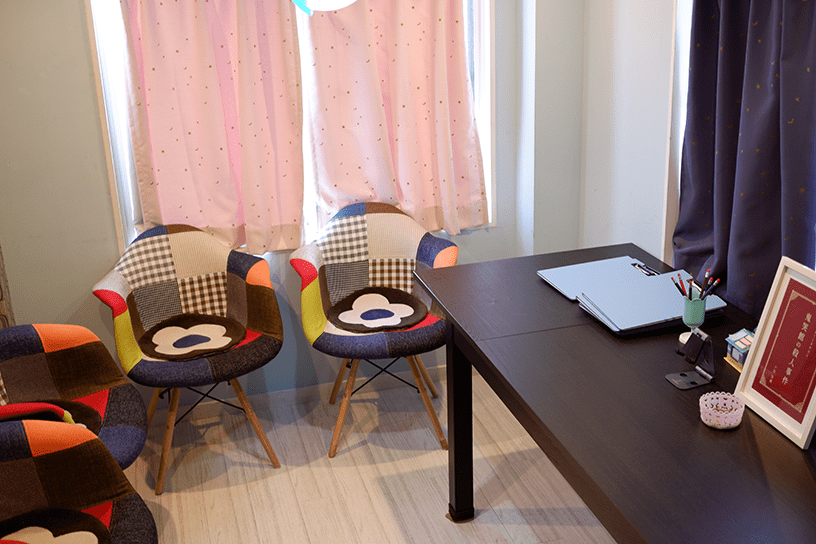 There's also a booth there where you can play popular murder mysteries!
Because you can't play alone, we created a place to gather
"Yes, and that's also the reason I made the Monodraco TRPG cafe. It's fun playing TRPGs, but they can't be played alone. So I made a place where you can meet friends to play with. I wanted to make that initial learning curve easier for others."
Moreover, Chihiro has a unique approach to store when it comes to their female customers. 
"The shortest playtime is usually around 3 hours… and it can go as long as 12 hours for longer games. So I thought that it would be awesome if you could enjoy some good food together with friends while you play. Recently, since the number of women who play RPGs has increased, we are trying to make our cafe a place that is more welcoming toward women as well."
Although it's true that TRPGs have environments that imitate the world of fantasy, the inside of the shop has a bright, pop-like atmosphere. Also, the menu seems to be very popular amongst female customers.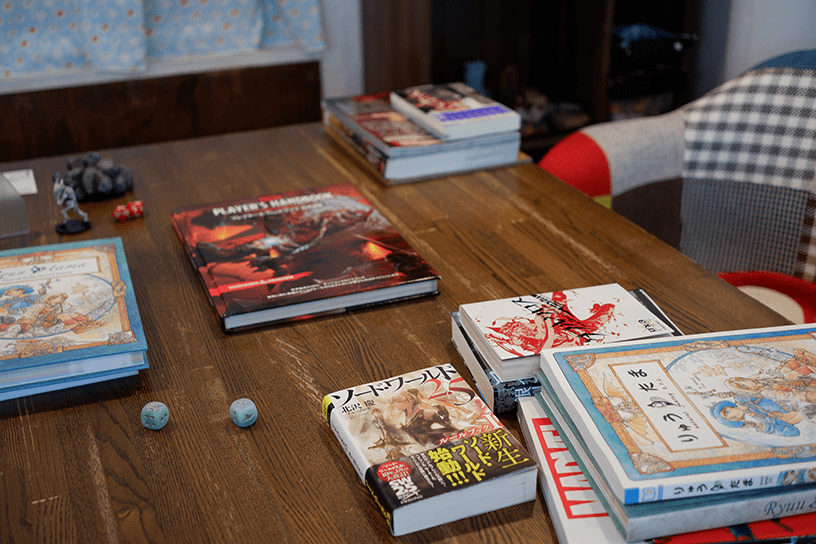 The bright and fun interior of the shop
"Online TPRGs are pretty common recently, but I think it's fun to play face-to-face like this with friends. It's a bit difficult to do now due to current events, but … it's a great way to get together with people. I once had a wedding party for a couple who liked to play TRPGs. I created an original TRPG scenario for them and offered dishes that reflected the gameplay."
Wow!!!! What an amazing story. Because you play TRPGs with your own thoughts, voice and your own self as a character, I think it's easy to have your own humanity come out in the gameplay. A couple who plays TRPG together, stays together and will surely build a happy family.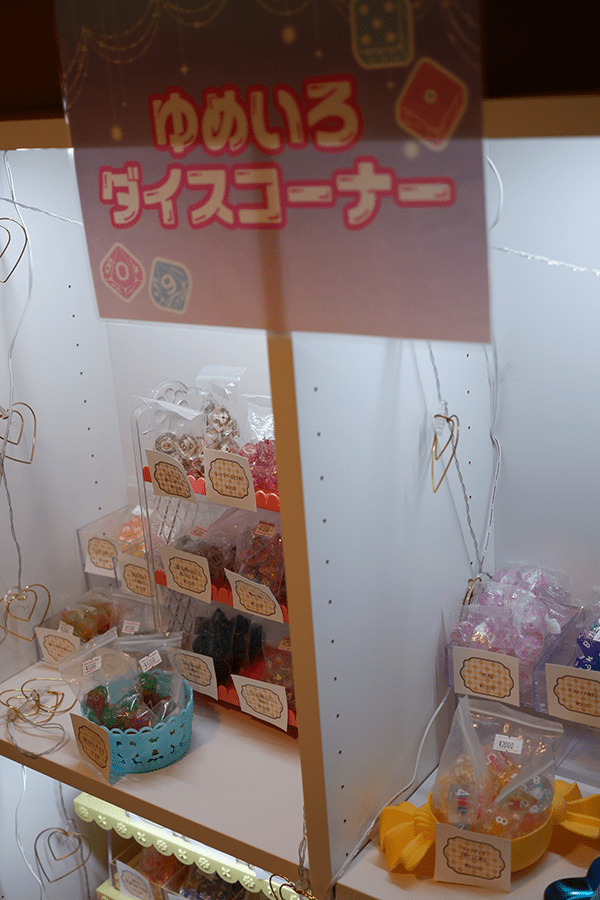 Cute dice are popular amongst female customers
"I want to do my best to spread the knowledge of TRPGs throughout Japan and create a place where anyone can get started, so I will work hard to make the Monodraco TRPG cafe a place like that!  Even people who have never played before have come to our cafe before, so please don't be shy and feel free to come in if you're interested."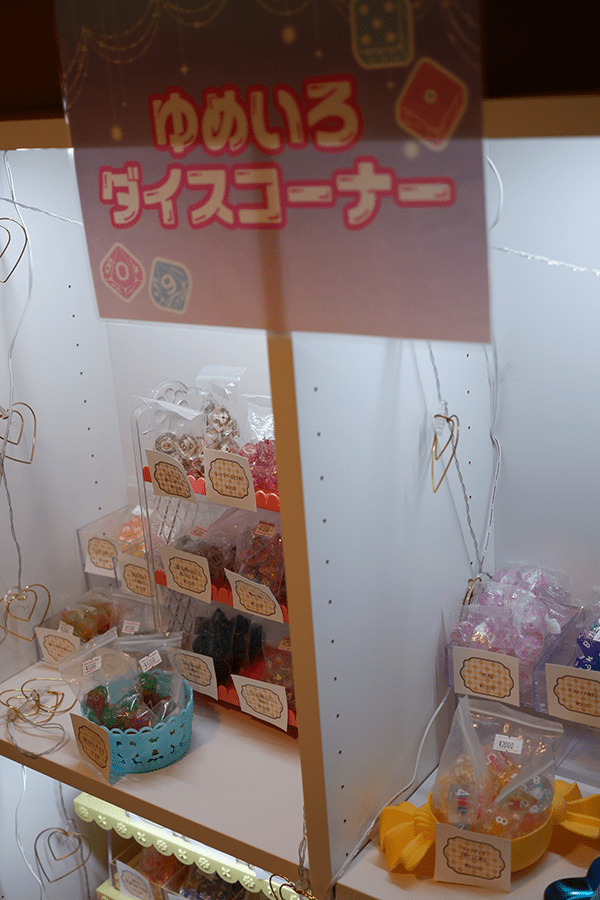 Since it is a TRPG that started overseas, there are many players who speak English. As such, Monodraco also has English conversation classes centered around language in TRPGs.  Come on out and enjoy learning English with them!!
If you're interested in TPRGs, definitely feel free to knock on Monodraco's door!
Twitter:@misuzu_trpg
Monodraco website:https://www.monodraco.com
Follow @doujinworld