There's a Vocaloid for Everyone: Cosplayer/Illustrator pomm
Vocaloid Culture Created by the People for the People
Every VOCALOID fan has created their own image of what each VOCALOID character's personality is like. The interesting thing is, to a certain extent, a lot of the things we all thought up separately are the same! Somehow we've all come up with the same thing for what we think their favorite phrases would be, or their interests and preferences. None of those things are official facts, which might be the most unique thing about Vocaloid culture. 
Today's guest, pomm, who was introduced to us by Toshiru, has been watching over the development of VOCALOID culture, all while contributing to it herself.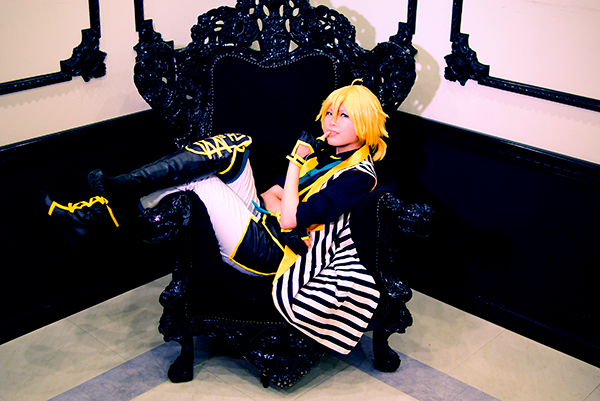 Holy Lancer, a recording module of ProjectDIVAX
"I've loved VOCALOIDS since Miku came out 13 years ago. Up until then I had some otaku tendencies, but I never loved anything as much as I love VOCALOIDS. I would just play a lot of video games with my little brother. I really liked rhythm games."
Finding Songs that Weren't Created to Make Money
To many Japanese, when you think of VOCALOID music, especially of Hatsune Miku, you can't help but also think of Nico Nico Videos, the primary platform for the VOCALOID boom. 
"Nico Nico Videos became super popular when I started junior high school. It was around that time when the Hatsune Miku software went on sale, too. I discovered Miku when I was binging on memes and fan videos on Nico Nico."
That age is particularly susceptible to emotion, so it's no surprise that she'd be so moved by a song about fleeting love, or that a cheerful, youthful song would stir her spirits.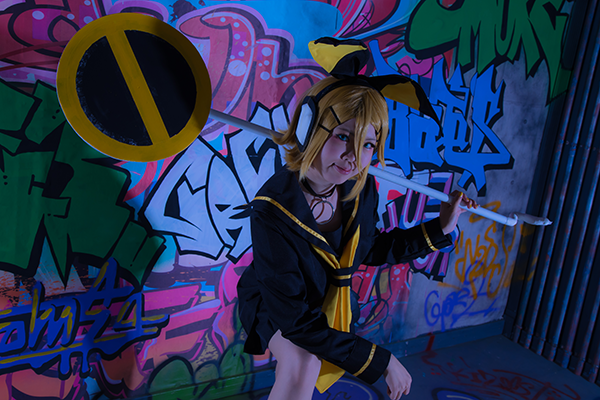 Kagamine Rin from "Rettou Joutou"
"Exactly…I thought it was so fresh and new. I really felt like there were so many things that made it different from regular pop music. That's why I became kind of obsessed with it (laughs)."
That's true…VOCALOID music is different from pop music in that it's not made with the intention to sell albums. In a way it's a more pure form of self-expression. Even though it's like something out of left field, the fact that VOCALOID music is so straightforward makes it like a ray of sunshine after rain.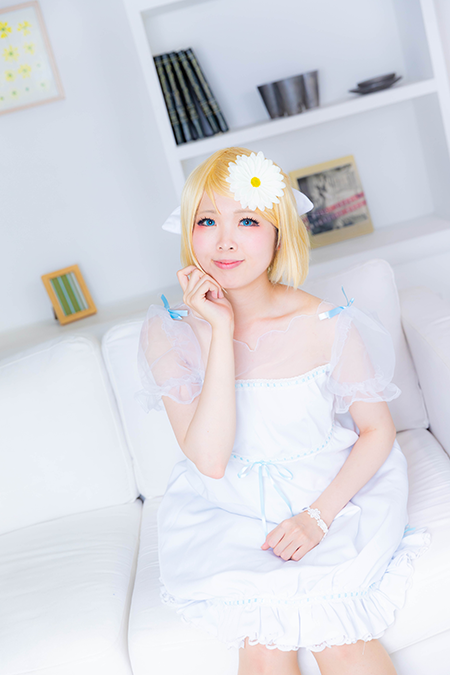 "Fairy Dress" recording module from ProjectDIVAF2nd 
Connecting with the Vocaloid World through a Love of Drawing
Otaku always want to get as close as possible to their favorite characters or franchises. pomm herself created her own VOCALOID world through her hobby of  illustration, which she's been doing since preschool. 
"Drawing is one thing I really never get tired of. I've even joined a club at events and distributed some of my original goods. Music is…something I wish I could do (laughs). I actually do have the software for Kagamine Rin and Len but I only ever have them talk. Oh, I did have them sing me the Happy Birthday song on my birthday once."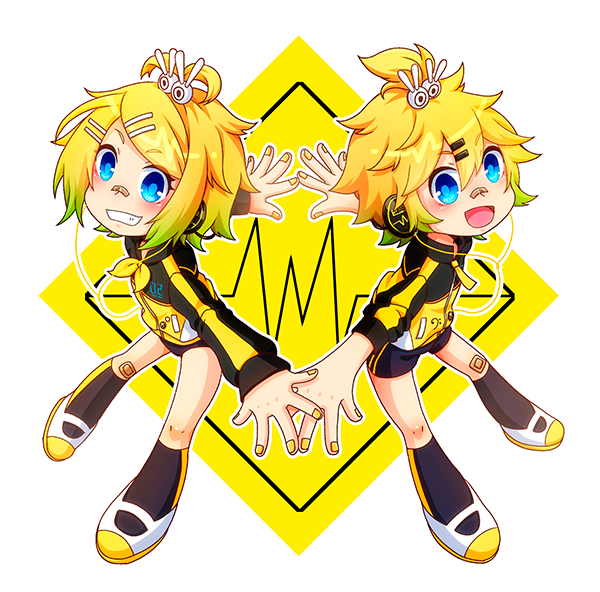 pomm's original illustration: Stylish Energy R, L recording modules from ProjectDIIVA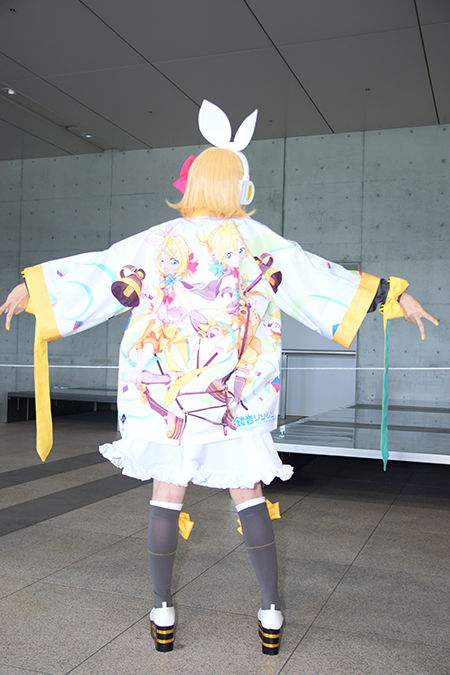 Subvisual Kagamine Rin from Magical Mirai 2018
To have your favorite character sing "Happy Birthday" to you…that's a special experience that only VOCALOID fans can have. 
"They called me 'master'. VOCALOIDS at first really don't have any settings; they can only say their name and that they can sing, right? There are as many characters as there are fans of VOCALOIDS, so to have one sing a song just for me is pretty cool."
How Did She Start Cosplaying?
So how did pomm start doing cosplay, when she was already so involved in drawing VOCALOID illustrations and making goods?
"When I was in school I had an otaku friend. I really thought of cosplay as kind of unusual, but when she showed me a photo of cosplay I just thought it was the coolest thing ever. Really, that one photo changed my life. I was like, 'I have to try it!', and that's how I started doing cosplay."
pomm, who loves creating as well as drawing, quickly became immersed in the cosplay world. 
"I was still a student then, so I had a pretty hard time. I wanted to buy costumes, but they were expensive, and I wanted to make costumes, but it was hard…But I love making things so I was able to keep trying. I made today's Kagamine Rin costume. I even hand-embroidered the musical note. Even the tattoo stickers…of course there are ones you can buy online, but if it's not a cannon design or if it's not exactly how I want it then I make it."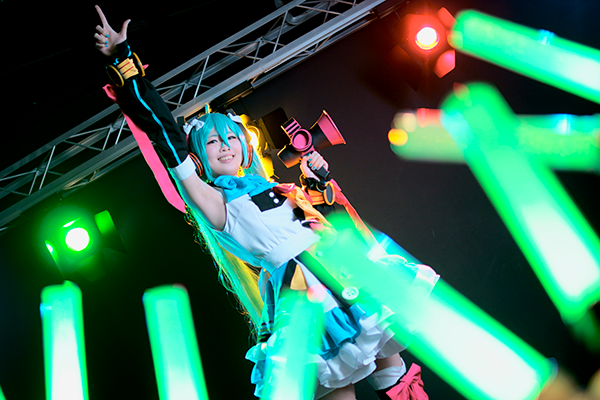 Main visual of Magical Mirai 2018
What perseverance! That's definitely what it means to be hooked. 
"But even though I'm talking a lot today, I'm actually a really quiet person. I really like how cheerful Rin is, so I think maybe when I put on her costume I gain the confidence to talk more. The first time I went to an event in cosplay, I really just huddled in the corner by myself (laughs). But the more I do it, the more I love it. I wonder if it gives me some kind of neurological high."
Even Planning to Join a Club at an Event
Now that the coronavirus pandemic is winding down, doujin events are slowly coming back. pomm herself plans to participate as part of a club in the VOCALOID only event THE VOC@LOiD M@STER45. 
"I'm thinking of distributing some goods. I'm really looking forward to an event full of VOCALOID fans! I plan to wear today's Rin cosplay there too. If anyone else is going to be there, definitely feel free to stop by!"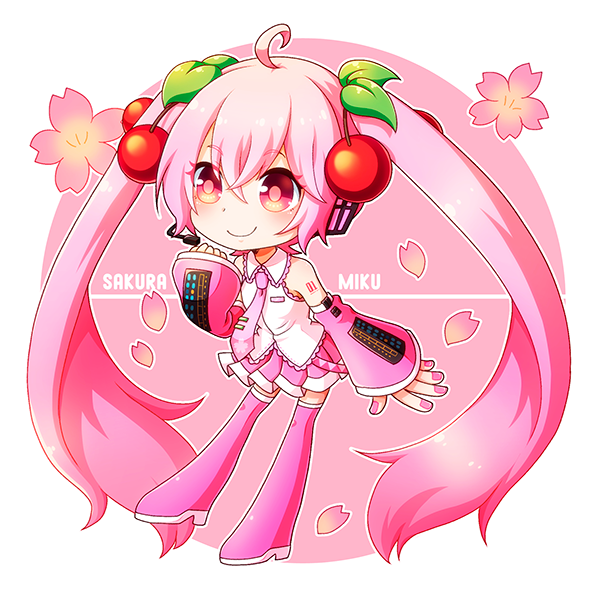 pomm's Sakura Miku illustration
Twitter:@p_pomm
Pixiv: https://www.pixiv.net/users/1067800
Follow @doujinworld