Here's What Cosplayers Told Us about Their First Cosplay Experiences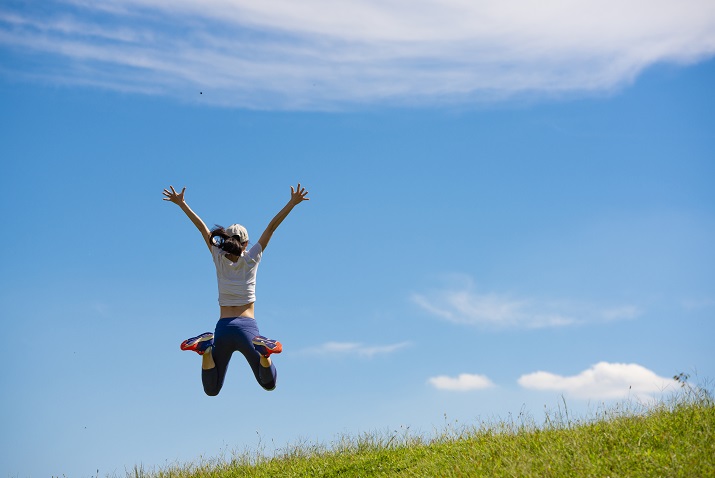 We've been asking cosplayers directly about their cosplay lives through surveys, and today, we're going to find out all about what their first time cosplaying was like! 
How did they become interested in cosplay? What was their first costume? Who did they cosplay with? Find out from the cosplayers themselves! And if you're someone interested in starting out with cosplay, you'll find plenty of inspiring messages here, too.
Question 1: How old were you when you tried cosplay for the first time?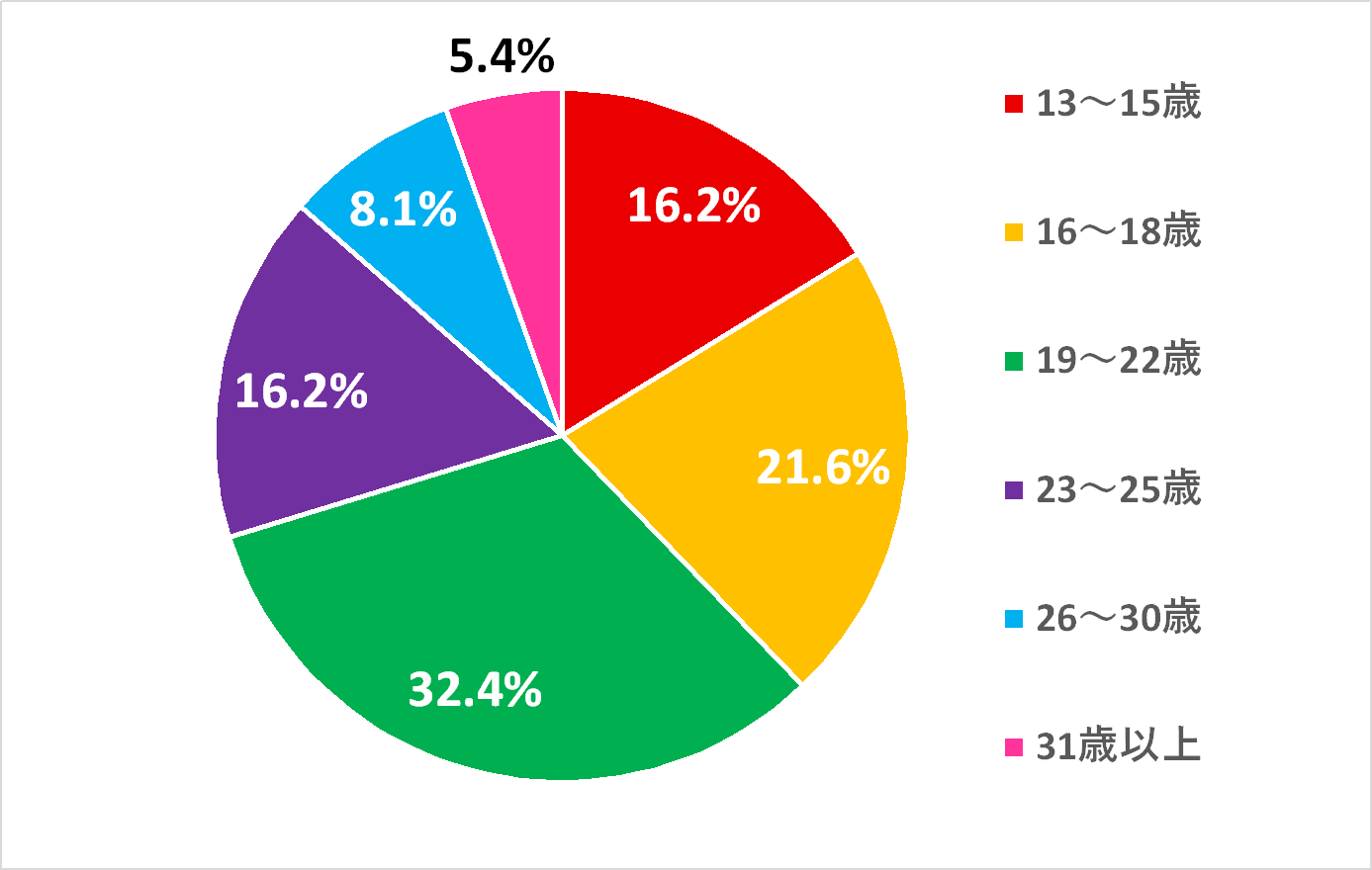 Legend:
Red: Age 13 to 15 (16.2%)
Yellow: Age 16 to 18 (21.6%)
Green: Age 19 to 22 (32.4%)
Purple: Age 23 to 25 (16.2%)
Blue: Age 26 to 30 (8.1%)
Pink: Age 31 and up (5.4%)
Our cosplayers mostly seemed to have their first cosplay experience between the ages of 13 and 31, but a good majority said they tried it before reaching adulthood. There were a lot of different responses! 
Respondents commented:
"It doesn't matter how old you are or what you look like when starting cosplay! Even if you're nervous, if you try it, you might become obsessed!"
"If you're thinking about trying it, just do it! Age and gender have nothing to do with it."
Question 2: Where did you have your first cosplay experience?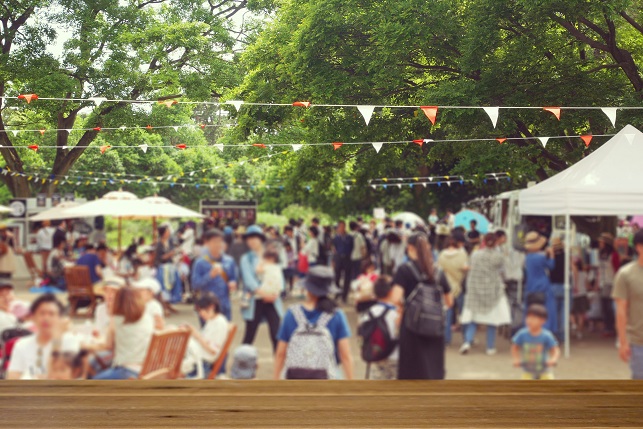 Top answer: Doujin Exhibitions or Doujinshi Selling Fairs (40.5%)
Far and away the most common answer was Comiket, Japan's biggest doujin event. Having your cosplay debut there is a dream come true! While some just went to browse the wares and meet new people, others were actually invited to cosplay at a booth to sell goods.
Respondents commented:
"I went to Winter Comiket for the first time with my best friend when I was a first year in junior high school. That's where we saw serious cosplay for the first time and decided we wanted to try it too! Then when we were second-years we went to the next Summer Comiket in our first cosplay together."
#2: Cosplay Event (21.6%)
About one fifth of respondents said that their first cosplay was at a cosplay event, where they intended to meet other cosplayers. These cosplay events are held all over town in amusement parks and municipal halls, and there are many different kinds. Since lots of other cosplayers and photographers like to attend them, they're a great place to make new friends and connections within the community. It's possible that this kind of networking event, where cosplayers and photographers can meet each other, is a great starting point for beginner cosplayers. 
Other places where respondents did their first cosplay included Tokyo Game Show and other otaku events, school festivals, party halls, photography studios, and even at home or at their friends' homes. 
Comments included:
"I went to a Shokotan (Shoko Nakagawa) concert, and I saw a lot of people there dressed in cosplay, so I decided to try it too."
Over the last year, it's become a lot more difficult to cosplay in public because there haven't been as many events to participate in, but the cosplayers had a lot of suggestions for that, too:
"Some say that this isn't really a hobby you can do while wearing a mask, but there are lots of ways to try it out without one, like going to a photo studio, or cosplaying at home."
"It's been a hard year, but there have been some advantages to staying at home, like remote cosplay and online gatherings."
Question 3: Who was your first cosplay with?
A lot of people would probably feel better doing cosplay for the first time with somebody there for moral support, right? Let's find out what the cosplayers said.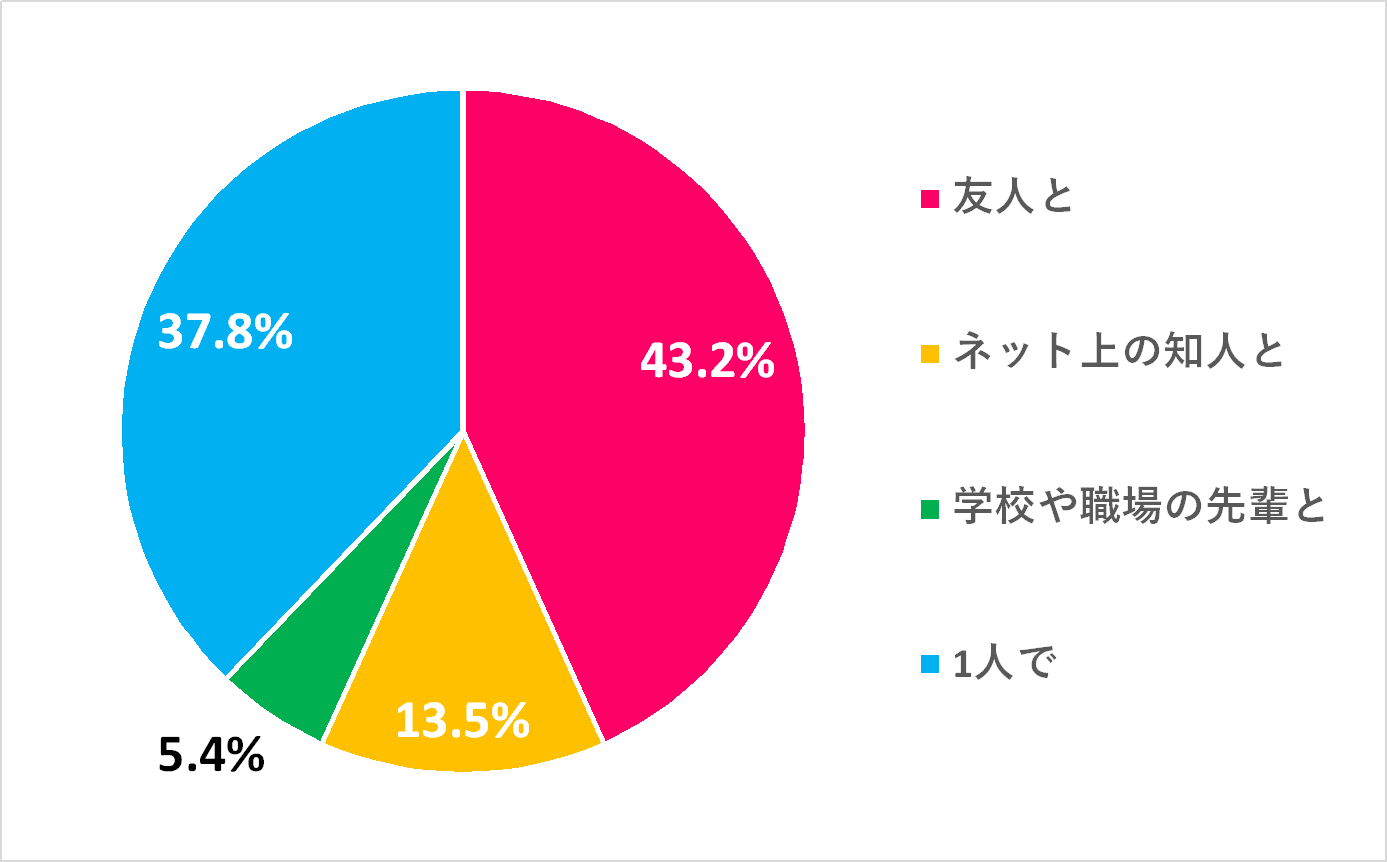 Legend:
Red: With a close friend (43.2%)
Yellow: With someone I met online (13.5%)
Green: With an upperclassmen or work superior (5.4%)
Blue: By myself (37.8%)
Almost 40% of respondents said they had their cosplay debut alone! Perhaps solo cosplay is more common than we thought. It does seem like a lot of people invite their friends to go with them, though. 
Comments included: 
"I didn't know anyone who did cosplay and had no way of meeting anyone, so I couldn't invite anyone to go with me. I was a nervous wreck leading up to it."
"My good friend was a cosplayer, and one of the members of their group was suddenly unable to go with them, so they asked me if I would put on the costume for the photoshoot."
"One of my friends was making a cosplay prop in class, and I became interested in cosplay after I asked them about it."
"I was invited to go through the Cosplayers Archive (a social media service for cosplayers)."
Question 4: What kind of costume did you wear?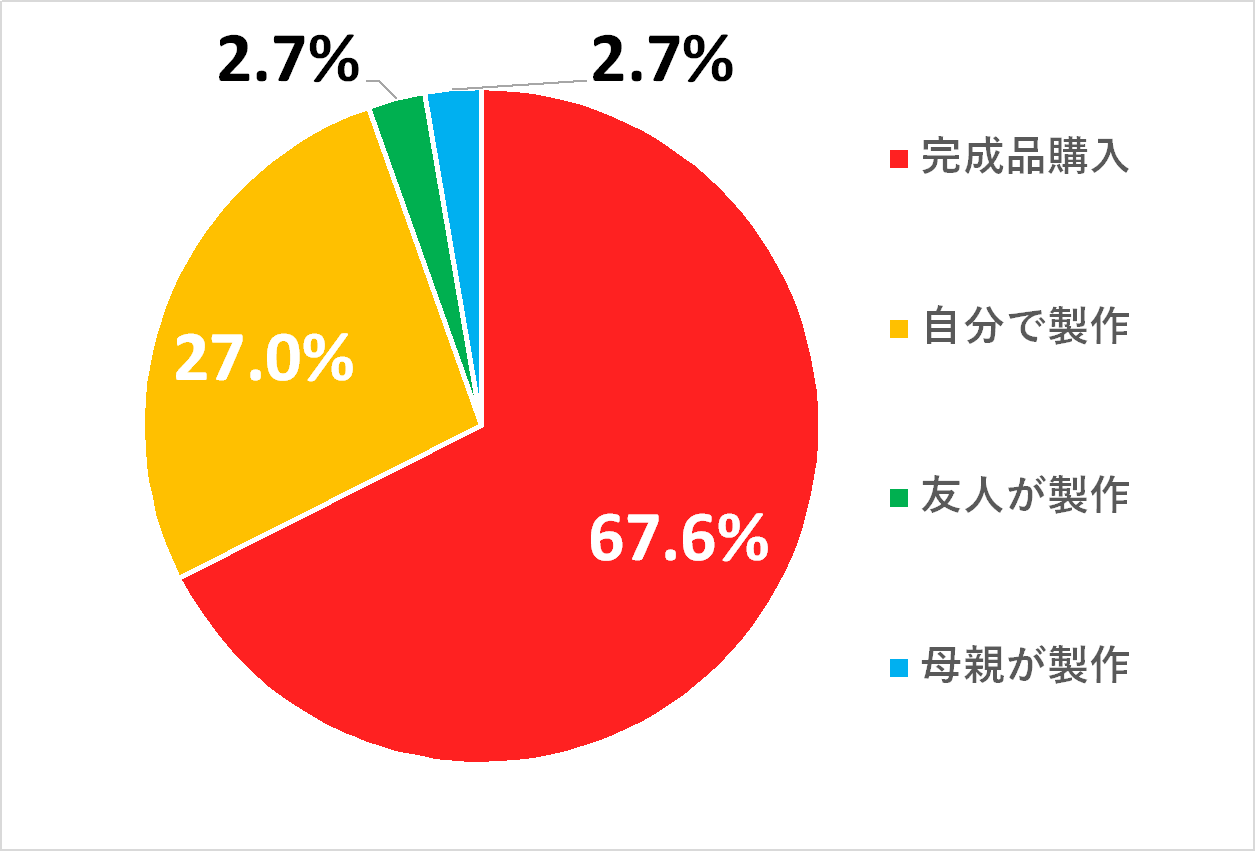 Legend:
Red: A store-bought costume (67.6%)
Yellow: A costume I made (27.0%)
Green: A costume a friend made (2.7%)
Blue: A costume my mom made (2.7%)
More than two thirds said that their first cosplay was a store-bought costume, which is understandable, since making a costume for your first try is a pretty high hurdle to overcome. A lot of respondents answered that they cosplayed characters that were easy to find online, or that they made costumes out of clothes and accessories they already had. 
Comments included: 
"I cosplayed as Ayano from Kagerou Project…I used my own hair instead of a wig and repurposed my school uniform for the outfit. I had trouble deciding how to hide my school's logo."
"I did Mordred from the Fate series. I had such a hard time making the wig into a ponytail. It was a lot of trial and error!
"I did Rei Ayano from Evangelion…Since I was in junior high school I didn't have much money, so I used a party wig from a multipurpose store."
"I didn't have a sewing machine at the time, so I resewed a kimono entirely by hand. My fingers were red and swollen by the time I finished."
*
"It's so much fun, but it costs a lot of money!!! I recommend first trying out a used costume first to see how you like it. Then if you want to improve it, you can find little details to fix."
The cosplayers all had their own unique, colorful experiences. Maybe you do, too! Feel free to share with us your own first cosplay experience, and if you haven't tried it yet, what's holding you back?
Follow @doujinworld
Translator
Rhiannon Charles