My Debut As A Programmer and Sculptor at the Tech-Cos Workshop!!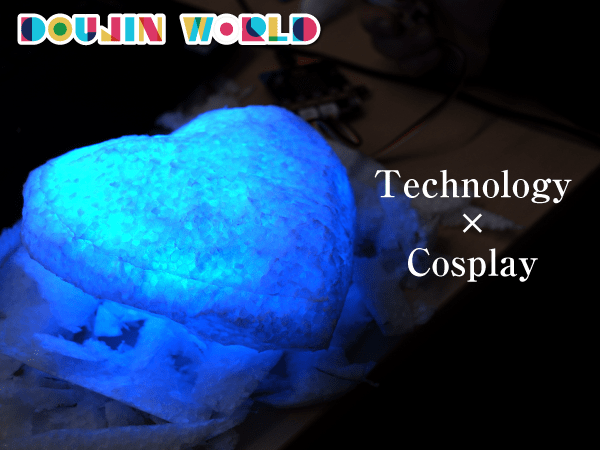 An Event Where You Can Experience the Fun of Tech and Modeling
Technology x Cosplay… A match made in heaven. How romantic. Mr Gomi, a guest that we had interviewed prior and the mind behind the tech group "Techno Alta", told us that they conducted classes where they teach you the latest technology, so I gave it a try!
The class is called the "Tech-Cos Workshop"!!
*Click here for our article on Techno Alta
There is a charge for the course since it's meant to incorporate technology and making models, but considering the content you get with this course, 15,000 yen to participate is a pretty sweet deal. 
Although the class is usually held in person, due to the grim situation with the coronavirus the class was switched to an online format. 
What mysterious materials… How do I use them?
After applying, I received a box that looked like this, and even after opening it and looking at its content I had no idea what I was looking at. However, there was a comprehensive instruction manual, so I checked to make sure I wasn't missing anything while reading through it. Great! It was all there!!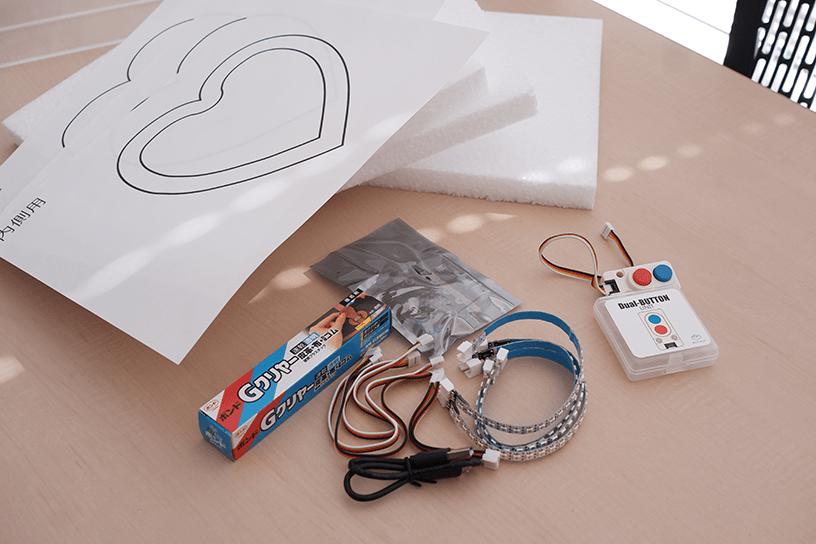 I opened the box to these mystery items…
Can I do it? Can I do it?
Then on the day of the workshop, I accessed the class through the URL!! There are 5 students for every 3 instructors, and with the number of people it was easy and safe to create a web conference. 
You can see the instructors here!!
Tech Instructor: EdelWorks Mr. Gomi (Twitter: @GomiHgy)
Modeling Instructor: Mr. Ichigo (Twitter: @Rikomike)
Assistant Modeling Instructor: Mr. Wasabi (Twitter:@wwwwwwww8)
First, Let's Dive into the World of Modeling
The instructors greeted us as soon as the class started!! We got started by delving into the modeling portion!
The cutting and pasting continues, as I make full use of my scissors and cutter. Yeah, I was a bit clumsy with it. You can see the hands of the instructor clearly on the screen and it's amazing to see the vast difference in craftsmanship. 
During the course, the instructor introduced the tools and materials they recommend for modeling and gave us tips on how to make the model itself. It's really great information for someone who is really wanting to get into modeling.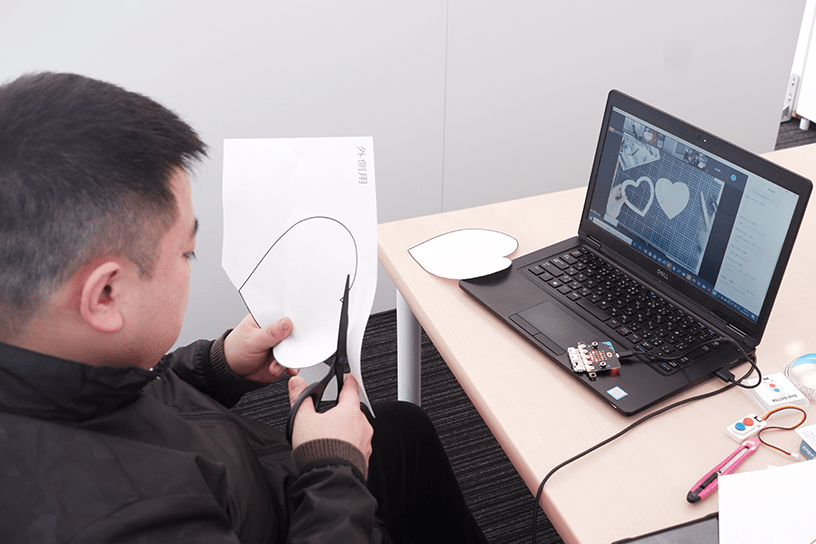 I feel like I'm a kid again.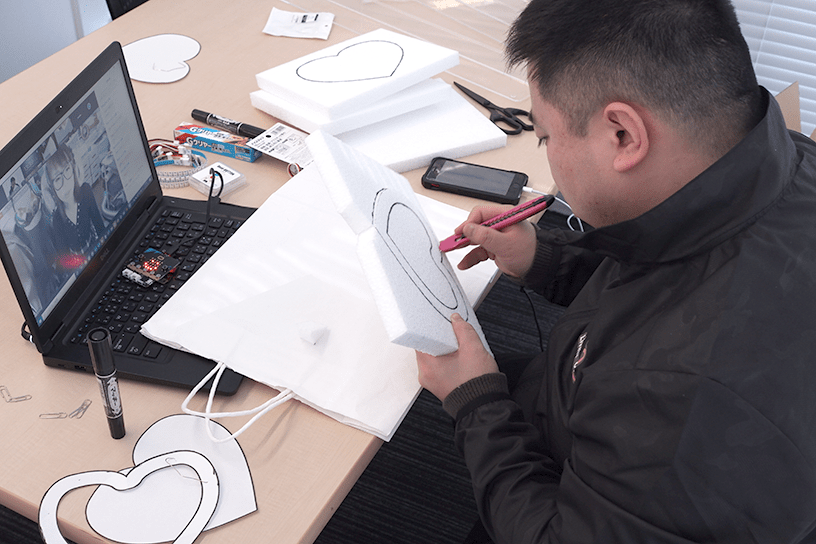 Cutting the EPP foam with a cutter. I'm getting goosebumps from the sound of the rubbing styrofoam…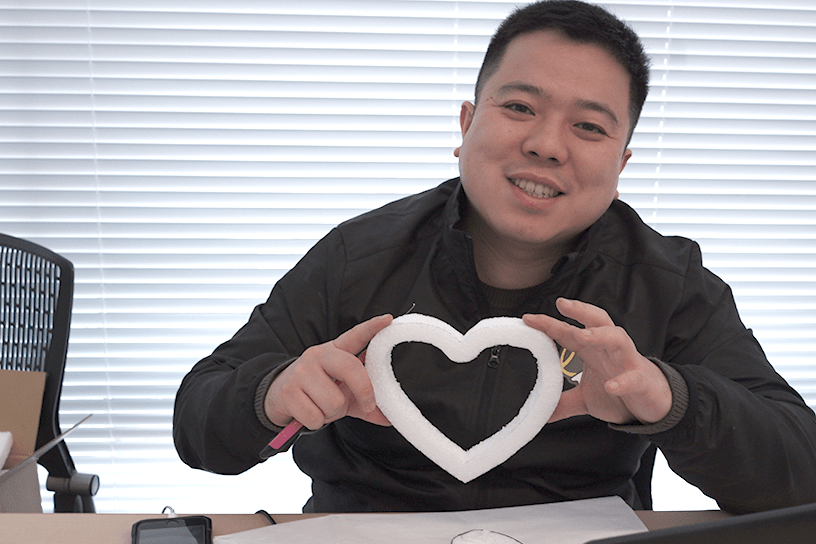 They recommend that you apply a thin coat of bond and dry it and reapply it afterward and let it dry again.
A Complete Amateur Giving Programming a Try
Now we've come to the next item in the mix!!! The LED lights. It was starting to feel more techy.
When you fold the LED tape as instructed and connect it to the mini-computer called the micro:bit…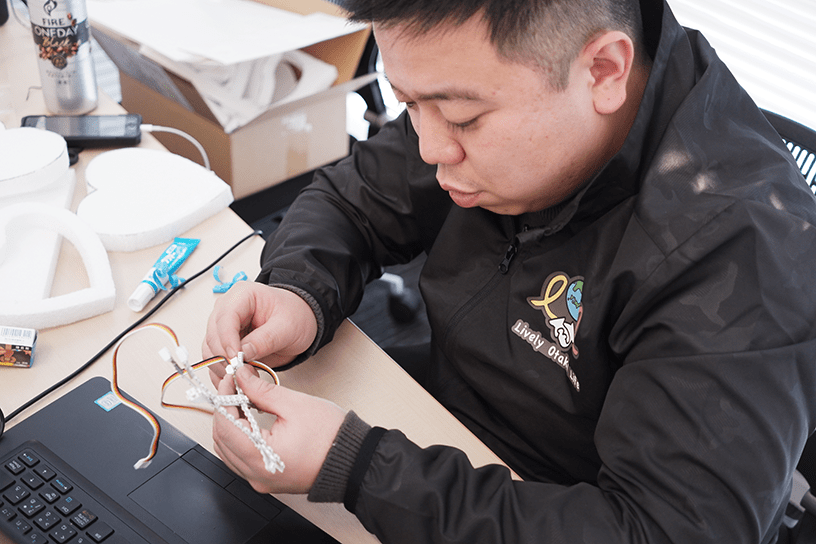 My heart is racing when I connect the wiring. What if I break it…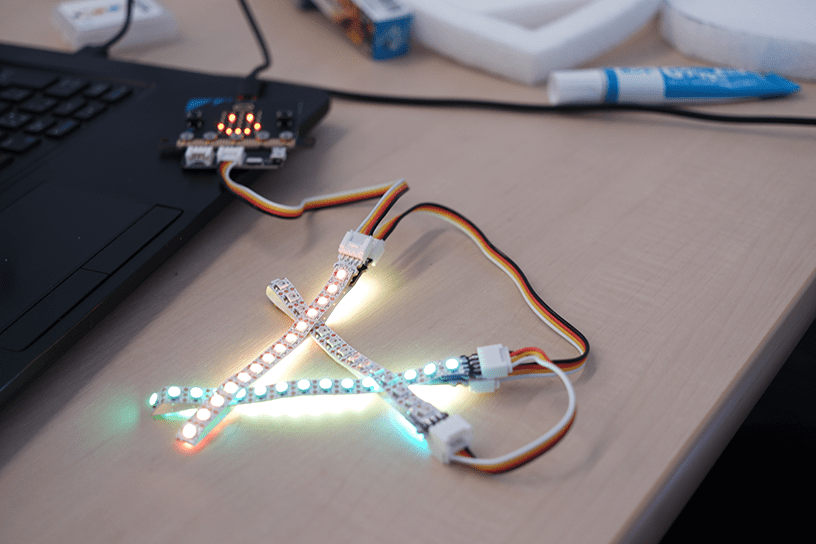 WAAAAHHHHHHH!!! Let there be light!! WHOA!!!
I was so hyped. However, we hadn't even touched the real tech yet.
First off, the micro:bit is a palm-sized computer used for education and produced mainly by the BBC in the UK. It's a great tool for learning programming. For this, the micro:bit will be used to control the lighting!
But… I can't program at all. I mean let's face it, I'm from the generation that used to break the Nintendo Family Basic…
Although my worry was quickly dispelled due to the fact that micro:bit allows users to learn programming through graphics rather than through text. According to Mr. Gomi, our instructor, it's called "visual programming". It seems nowadays programming has become a lot kinder to beginners.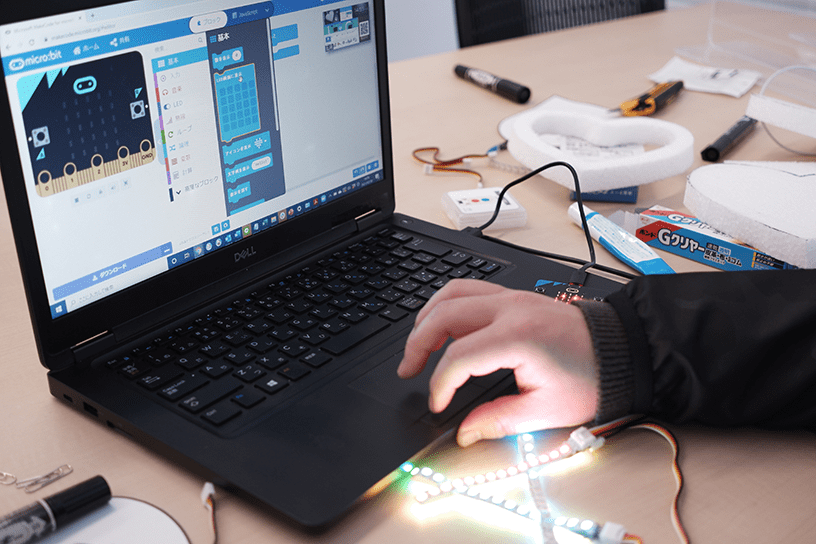 I really got into it and started making lots of different programming patterns.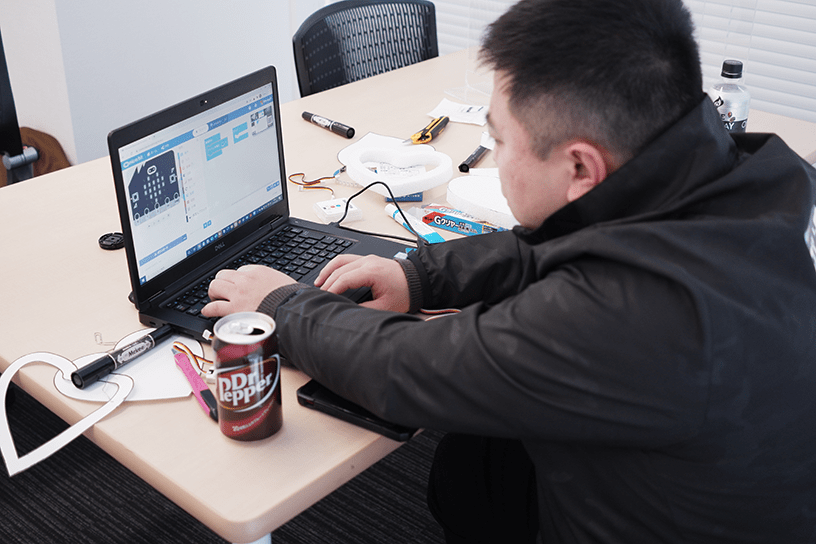 Just to take my newly embraced image that much further, I started to drink Dr. Pepper. I feel like with micro:bit I could do anything, even build a time machine!!
After learning micro:bit, It was finally time to add the lighting and dock it!! Finally, I put the illuminations in the model that I made earlier…
I was stiff; the tension was palpable as I flipped the switch. Please….come on…
"LET'S GO!!!"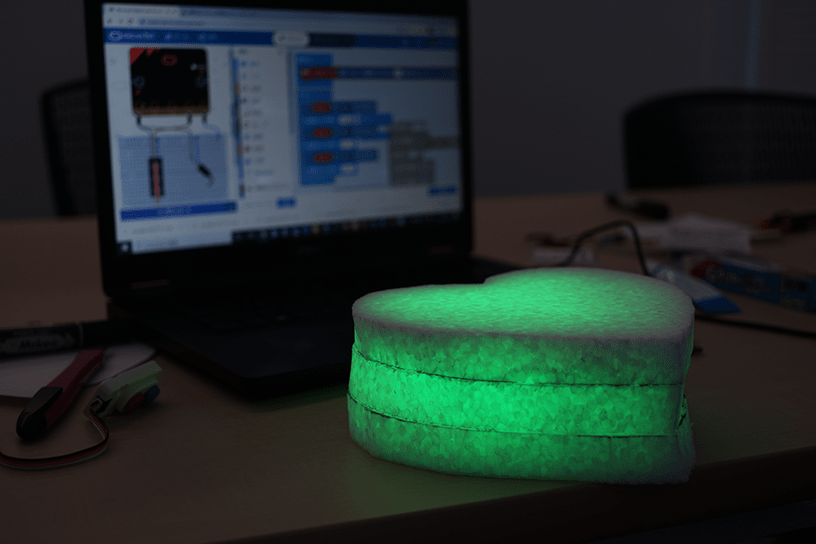 And we have light!!!!!!
I feel like I'm a mad scientist. It shines amazingly!! It was a success…. I did it!!!
Afterward, a program controlling the LED lighting is installed into the micro:bit. Just as I thought it would be, it felt amazing to be able to manipulate the colours and lighting patterns. Mr. Gomi was really able to explain the technical aspects of this in a way that was very easy to understand, and just listening to him made me feel like I could really do programming myself. 
Pleasantly Tired
And so, the "Tech-Cos Workshop" which spanned 4 hours, came to an end. It was my first experience with tech and modeling and I felt very accomplished. To these people who are at the forefront and are willing to take the time to kindly teach me… I am very grateful.
To anyone out there who is interested, you should really try it out!
The video is also up on our DoujinWorld Twitter account!! Check it out!
●Twitter:@doujinworld
Here's the intro video for micro:bit and the lighting module we used called yin:bit (Japanese):
Follow @doujinworld
Writer
Shiro Sato
Having started an advertising production company in 2010 whose main business partner is a mail order company, he specialises in direct response advertising