[Cosplay Pole-Dancer: yamadori] Synergy is the Key to Victory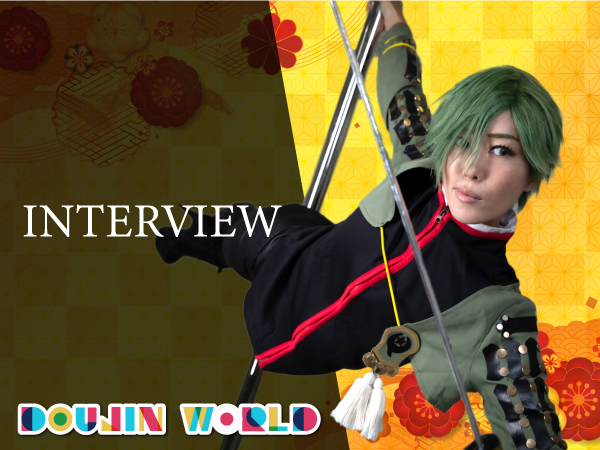 This time we have a very rare, distinct individual, introduced to us by one of our previous guests, Mizuho…
It's yamadori! She is the champion in the double division of the Pole Dancing World Championship. Why would a person like this cosplay?? I ask her about all of the interesting details!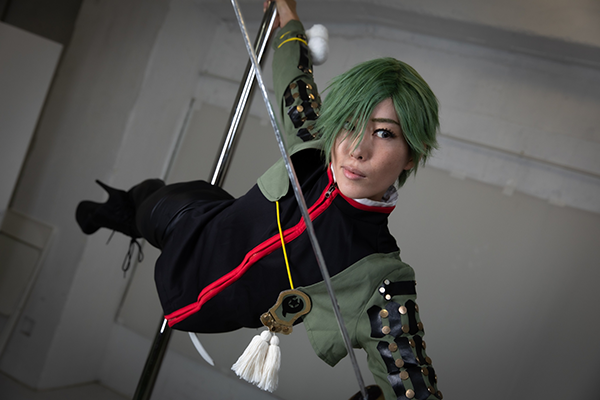 Pole dancingXCosplay; a very interesting conversation! Uzumaru from Touken Ranbu/
Photographer: aya-nes
How Did You Become A Pole Dancer?
Of course I am itching to hear about the cosplay pole dancing, but first let's take a step back and talk about your introduction to regular pole-dancing. I'm wondering how you started participating in an activity that has such a sexy image as pole-dancing.
"Well when people think of pole-dancing they often imagine dancing in sexy costumes, and of course there are forms like that, but there are also forms of the sport that lend more to circus-performance and competition. I practice the style of pole-dancing that lends more toward performance arts and competition."
More specifically, pole-dancing is often classified into pole-sport, pole-art and exotic pole. For pole sport, the competition is centred on skill and expressiveness much like figure-skating. Pole art is said to be more focused on the entire experience making use of lights, props and music. It's really about the artist.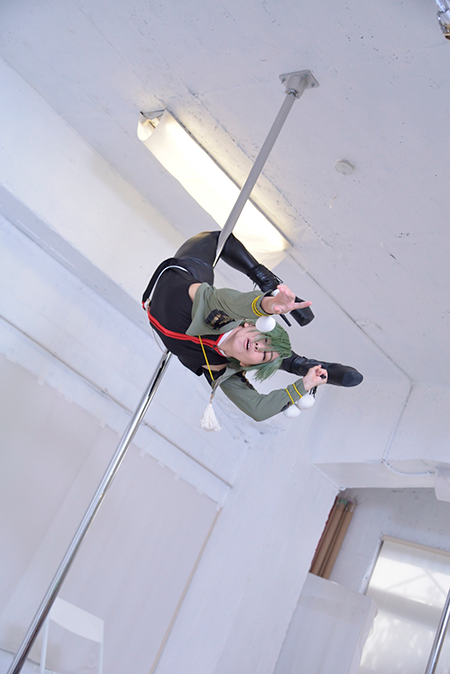 It really feels like the character is dancing. Uzumaru for Touken Ranbu /
Photographer: Souya (Twitter: @souya_hy)
When I see a world-class performance like this I feel like I have been pulled into the work
Photographer: Uzura (Twitter: @kizika_uzura)
Nevertheless, I think that being the world champion of pole dance is a great career. Have you been active in the world of dance for a long time?
"Well I was in a dance crew when I was in high school, but I often got frustrated because I didn't really have a sense of rhythm. Because of that I took a break from dance for a while. The reason I thought about giving pole dancing a try was because I was to get in shape… because in my 20's I started gaining weight."
yamanori says that pole dancing didn't really strike her as something that she needed rhythm for and she decided to try it out because she had always been good at athletics. And then she met cosplay.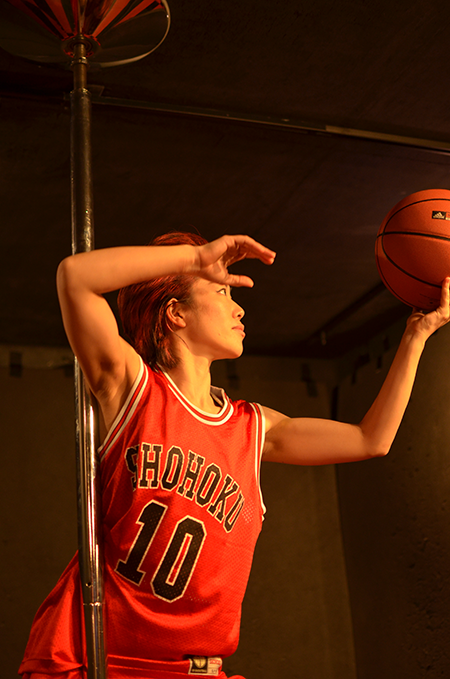 The amazingly athletic yamadori. She looks great at basketball! Hanamichi Sakuragi from SLAMDUNK/
Photographer: OKD
What?? You're not an Otaku…?
Most of you who have read this far are probably thinking finally….finally… we will hear some otaku lingo. But truth be told, yamadori isn't an otaku!!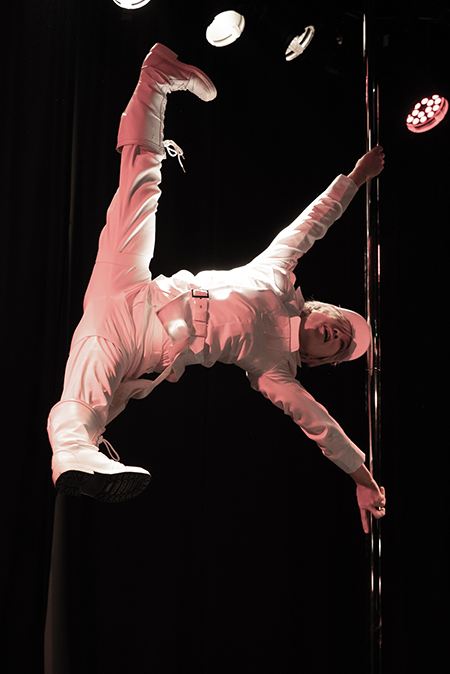 A white blood cell going around the pole just like it circulates around the body.
Photographer: Yuko Oshirichan Shimomoto (Instagram:@oshiri_chan) 
"It's true, I started cosplay because my pole-dancing instructor was an otaku. So I performed at an anime event, and before I knew it I got into cosplay." 
That being said, if you ask an otaku about this, they would say it's a bit odd if someone is into cosplay but isn't in the otaku scene themselves.
"My sister is an otaku, so this world is pretty "normal" to me. And when I started getting into cosplay I was able to connect to a variety of different people. Otaku are such passionate people and they are very motivated. I really like people like that. I guess you could say that I am an otaku for otaku's (laugh). There are also a lot of characters that I like, but not with the same intensity that one might call the "fav character" energy. I really feel it's amazing when someone can so straightforwardly like something with all of your heart."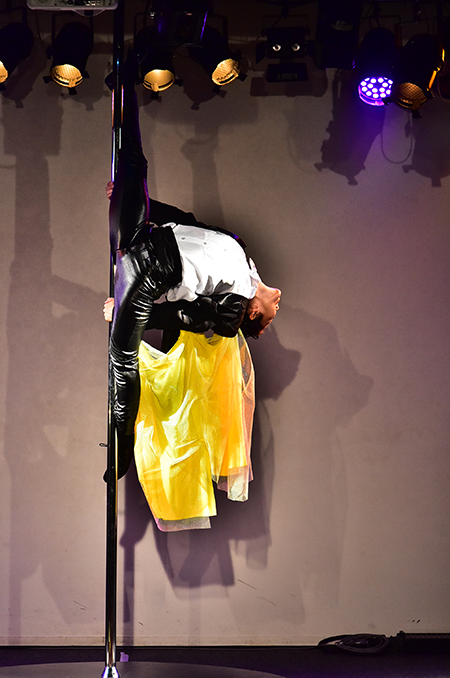 This pose really shows you how amazing the human body is. Tatara Fujita from Welcome to Ballroom/Photographer: Noyo (Twitter: @a_oinoyo)
Cosplay That Can Be Done Simply Because There Are No Favourites
It's because of this that yamadori doesn't cosplay on the regular. This is actually her second time she has cosplayed outside of a cosplay performance. Your cosplay today is Uzumaru from Touken Ranbu. Why did you choose this cosplay…? 
"In the last 5 years I have cosplayed around 20 characters in my pole-dancing performances. I can't really perform works that I am not familiar with, so I try to create performances around characters I like by reading and watching the works. I don't usually play video games, but little by little I was able to start to enjoy Touken Ranbu."
It's because she is a cosplay pole-dancer and not an otaku, that she is able to bring the perspective of a performer to the art.
"The first cosplay I ever did was Ryo Saeba from City Hunter. Recently, I've been doing Black Jack. He's a difficult character to perform because he normally doesn't move much. Doing cosplay pole-dancing events like these, I try to choose major characters even if I don't really know the anime. That is one of the upsides to not having favourite characters (laughs)"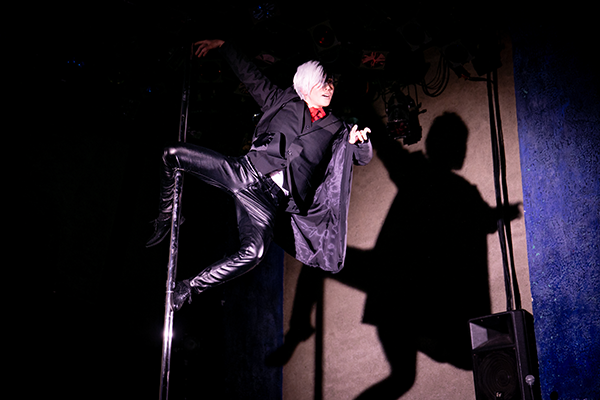 The feeling of weightlessness is so strong. How isn't she sliding off!? Black Jack/
Photographer: Aki Saito (Twitter: @aki_saito_)
Cosplay Pole-Dancing Expands the Realm of Expression
An interest in pole-dancing that began as a way to stay fit and lose weight resulted in performing at an event, and eventually a win at the World Championship… From there, yamadori opened a studio where she teaches others in that style of pole-dancing. Was this written in the stars?
"I'm really happy that I got into pole-dancing and that led me to cosplay. When I am cosplaying I have to really think about how to express that character within the performance in order to keep the feel of the work. This also helps me expand my range of expression on the pole when I am not cosplaying. If you only focus on the competitive aspect of pole-dancing, you may lose the lustre of the performance. I want to continue performing as various characters and improving on my range of expression."

Pole-dancing is her main career and cosplay pole-dancing is more of an activity in the doujin community. The synergy that these two worlds create may just be the secret to yamadori's success.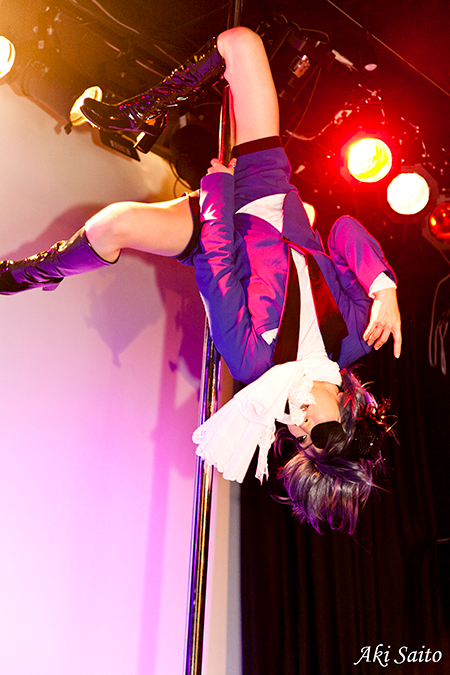 I'm getting nervous just looking at this!
Black Butler/Photographer: Aki Saito (Twitter: @aki_saito_)
●yamadori
Twitter:@yamadori_maki
Instagram:yamadori_
Pole & Fitness Studio Lycoris: https://lycoris-pf.com/
Follow @doujinworld
Writer
Shiro Sato
Having started an advertising production company in 2010 whose main business partner is a mail order company, he specialises in direct response advertising.
Translator
Rhiannon Charles