We Joined a Prayer Meeting with Maids in Akihabara!
It's so hot here in Tokyo right now…summer is in full swing. It makes you want to drink an ice cold ramune…or a Dr. Pepper, the drink of choice for many Japanese otaku! 
In fact, it's so hot lately that we were on the lookout for something to do that would keep us cool, so we were excited to hear that Licolita, which is a non-profit organization in Akihabara, was putting on something that was right up our alley. 
Since 2004, Licolita has been putting on an annual event called "Uchimizu Musume Daishugo!", in which people who love Akihabara and maid cafes come together to do "uchimizu", the practice of watering the concrete of the town in an effort to prevent the city from becoming a heat island. We'd heard that this year's event was cancelled because of COVID-19, but we soon learned that it was still going on, but in a new form. 
"Kaiten Uchimizu, Hajimemashita"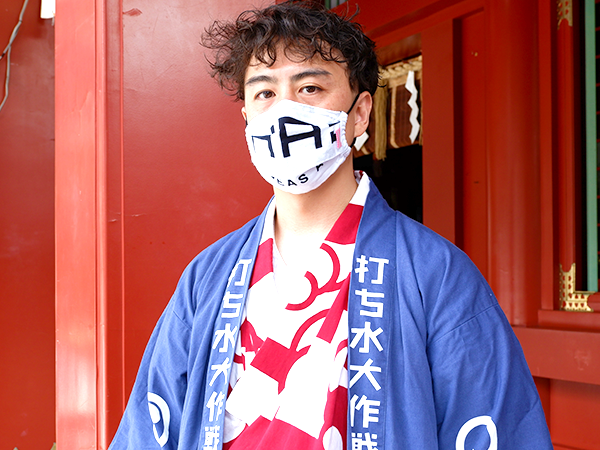 The extremely polite Mr. Sanada of Licolita
Since we were interested in the event, we made an appointment with Mr. Takeyuki Sanada from Licolita, who gave us more details about the event. 
"This year would have been the 17th 'Uchimizu Musume Daishugo', but after some discussion we came to the conclusion that we wouldn't be able to safely hold an event with so many people in one place, so we decided to revive the 'Kaiten Uchimizu, Hajimemashita' project that we initially did in 2011 after the Great East Japan Earthquake, when parts of the city were going through rolling blackouts."
That's true…holding the event in one place would violate Japan's "social distancing" rule of avoiding the three C's: closed spaces, crowds, and close contact.
"That's why we decided to switch this year's event to the 'Kaiten Uchimizu, Hajimemashita' project, in which we asked participating maid cafes to water their entrances when they open up in the morning. We are also planning to hold a prayer meeting at Kanda Myojin Shrine, though it won't be open to the public."
What?!
Not open to the general public? |д゚)チラッ
Not at all? |д゚)チラッ
I wanna see it~ |д゚)チラッ
"O-okay…For an article, right? Alright, Doujin World, you're invited!"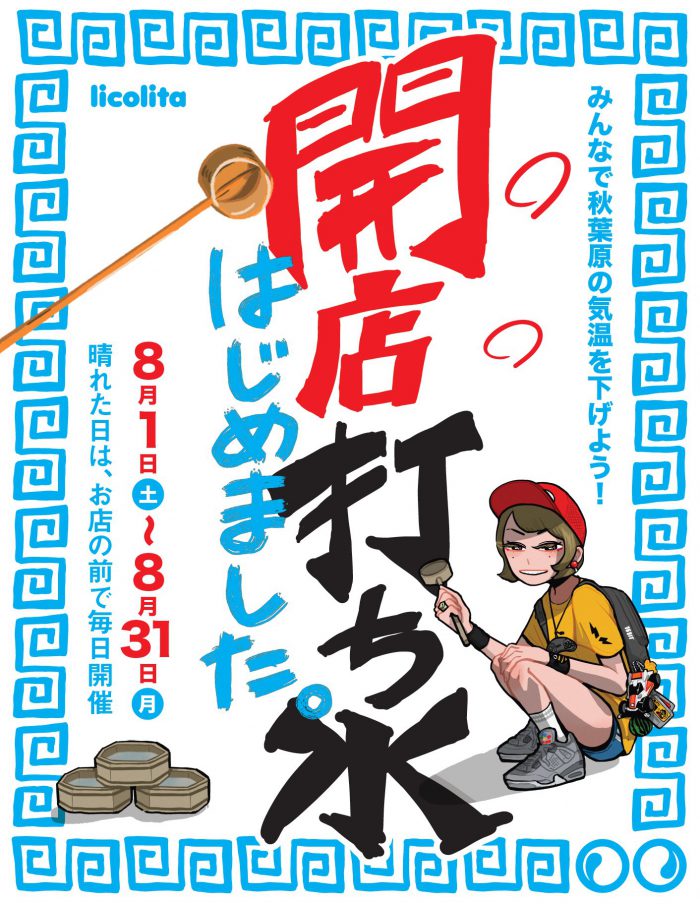 The official poster for "Kaiten Uchimizu, Hajimemashita"
・Citizen's Association for Contributions to Society in Akihabara: Licolita
Kaiten Uchimizu, Hajimemashita. 
August 1 (Saturday) to August 31 (Monday)
Each shop will water their shopfronts on every sunny day in August! Check out the website below for details. 
To Kanda Myojin Shrine!!
On July 25, the day of the prayer meeting, the weather was pretty gloomy. The sky was heavy with clouds that looked like they would dump rain on us at any second, but it was probably better than a dazzlingly bright–and hot–day, right?
When we arrived at Kanda Myojin, which is where the god that protects Akihabara is enshrined, we were sent to the press waiting room, where we met representatives from big newspaper, magazine, and digital media companies. We felt honored–and a little intimidated–to sit among them, so we were actually glad that we had to sit two meters apart. Everyone had big fancy Canon cameras, so we felt small in comparison. 
A few minutes later, the prayer meeting to wish for the end of the pandemic, prosperity in business, and safety in the neighborhood, began.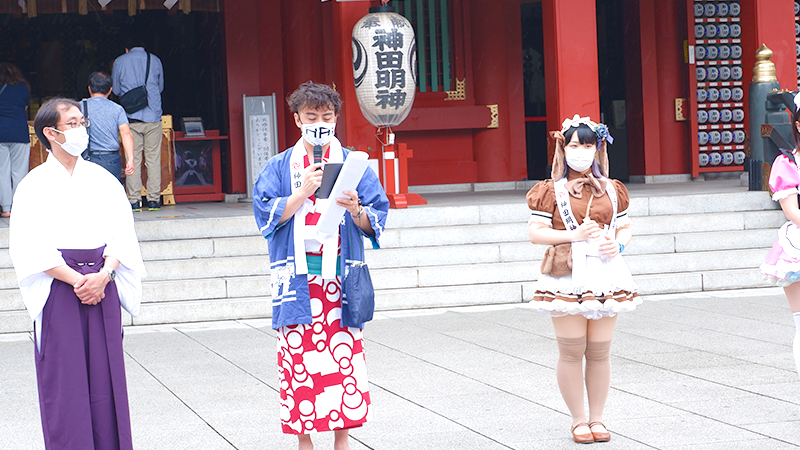 Mr. Sanada giving the opening greetings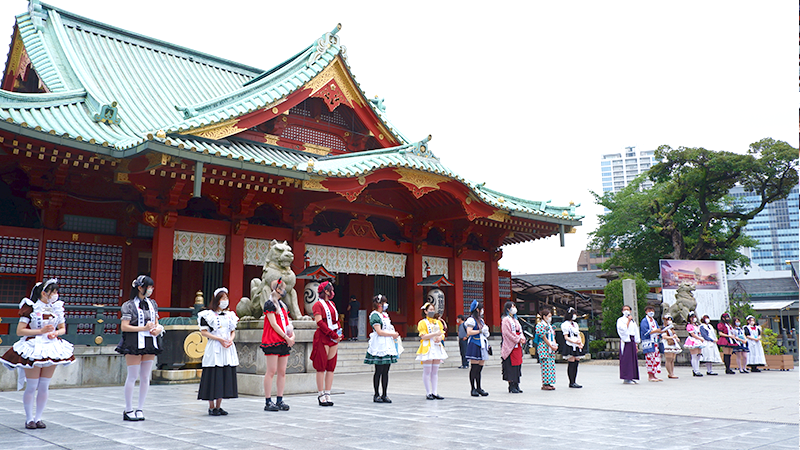 Akihabara maids out in full force!!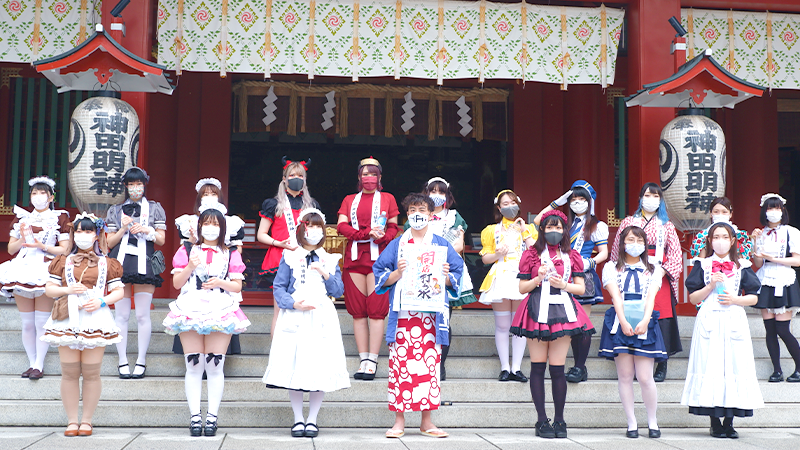 Mr. Sanada, the chief priest, and the maids all stood in a line in front of the main shrine building, maintaining a safe distance from each other. After the chief priest and Mr. Sanada gave their opening remarks, each of the seventeen maid cafes who sent maids to the event had their names called, as the maids bowed in greeting. 
One of the names we heard had us doubting our ears. 
"Koakuma no Utage…"
Huh? "Koakuma no Utage" means "Feast of Baby Demons…" Isn't this a shrine? Is that okay?!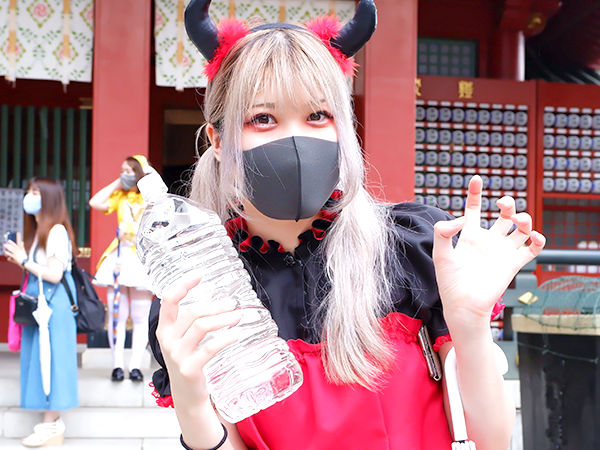 A baby demon at a shrine…it happens a lot, apparently!
Is it really okay for a demon to be on the sacred grounds of the shrine?!
"Hahaha. As long as it's a baby demon and not a regular demon!"
That's what they told us…
Well, since it was a special occasion, after all, we tried to get a photo of the baby demon, but for some reason our camera shutter stopped working. Was it the power of the demon??
"I took the energy from your camera. If you want it back you'll have to come to the shop!"
Well alright then, if you insist!
A Ritual that Would even Make the Gods Fall in Love
After that, we moved inside the main shrine building and began the ritual of the prayer meeting. Under such a solemn environment, having the unusual maid cafe names read aloud in a chant was strangely incongruous. It was impressive that the chief priest read through all the funny names without messing up!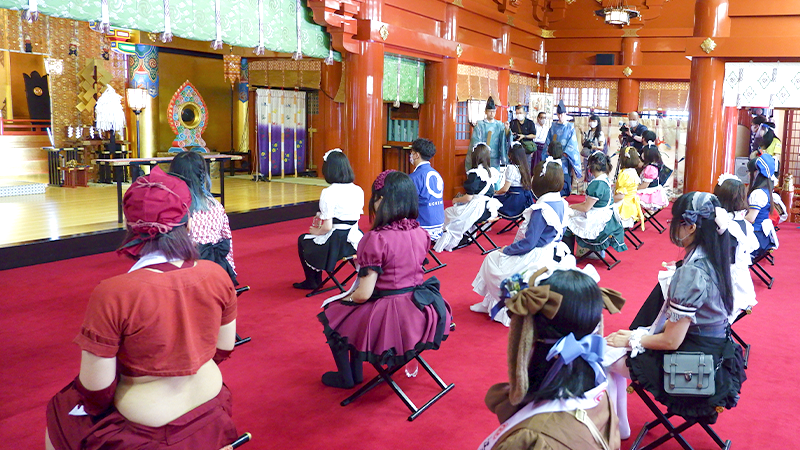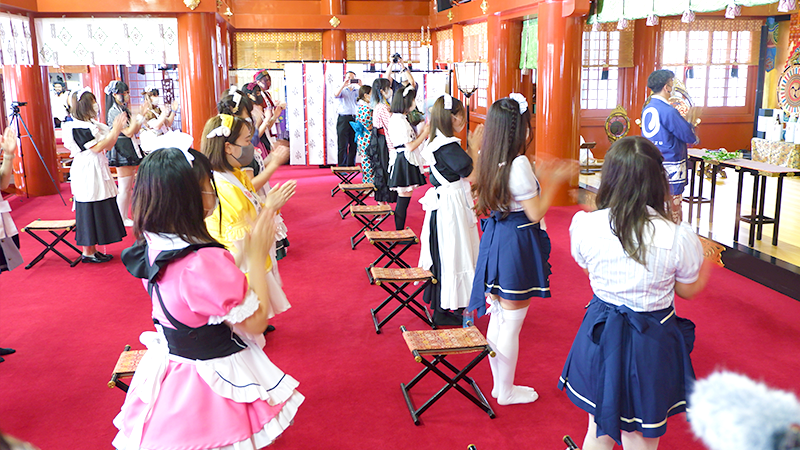 Everyone performing the standard ritual of prayer together: two bows, two claps, and one prayer.
As soon as the prayer meeting ended and everyone was calling out their goodbyes, the sky opened up and a torrential rain came crashing down on the shrine grounds. The timing was impeccable, like the god of the sky was taking part in the Uchimizu event himself. It seems like the god of Akihabara has a flair for the dramatic!
After making the rounds and saying our hellos, we all proceeded to At Home Cafe, whose maids showed us how the uchimizu would be done.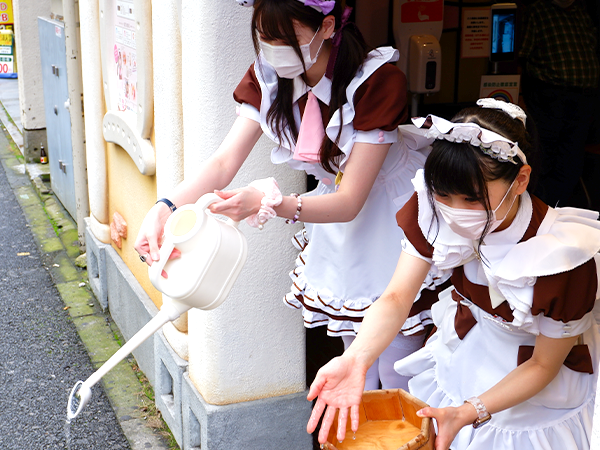 Maids from At Home Cafe doing uchimizu
While the water splashed down on the sidewalk made us feel nice and cool, but watching the maids doing it made us feel plenty hot. Also, the masks we had to wear the whole time made us pretty hot, too. We can't wait for the day the pandemic is over and we can all take our masks off. Then we can see the maids' pretty smiles again!
Plague, go away!!!
Cafes that are participating in "Kaiten Uchimizu, Hajimemashita":
Follow @doujinworld